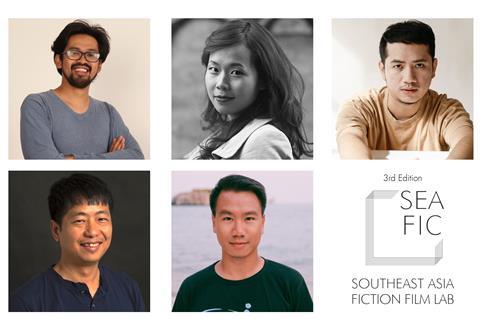 The Southeast Asia Fiction Film Lab (SEAFIC) has announced five Southeast Asian projects selected for its third edition, including the latest projects by Ash Mayfair and The Maw Naing, and two first-time filmmakers from Indonesia and Vietnam.
Mayfair teams up again with The Third Wife producer Tran Thi Bich Ngoc on Skin Of Youth, which is set in 1990s Vietnam about two youths who court the criminal underworld to find enough money for one of them to go for sex-change operation. Mayfair's feature debut The Third Wife won prizes in Toronto, San Sebastian, Chicago and other festivals.
Myanmar director The Maw Naing's second project The Women is about a group of Burmese women who struggle to survive while working menial jobs when they begin to realize their biggest problem is a lack of rights. The Maw Naing's debut feature The Monk screened at Karlovy Vary, Busan and Rotterdam and won a NETPAC prize at Vesoul.
The Philippines, along with Myanmar, joins SEAFIC for the first time. Filipino filmmaker Petersen Vargas's second film Some Nights I Feel Like Walking follows a rich teenage runaway who joins a four-man crew of street hustlers in a cross-country odyssey. Vargas's feature debut 2 Cool 2 Be 4Gotten was named best picture at CinemaOne Originals.
Makbul Mubarak is an Indonesian film critic-turned filmmaker whose debut project Autobiography revolves around the intense yet peculiar friendship between a teenage housekeeper and his military employer who finally returns home after years of absence. His project has also been selected at the upcoming Berlinale Talent Project Market and was previously at TorinoFilmLab.
The debut project of Vietnamese director Nguyen Le Hoang Viet, Till The Cave Fills, follows a married woman struggling for a baby who escapes from her family and meets a mysterious man in a cave. Nguyen's short film Roommate won best young director at last year's Hanoi International Film Festival.
The five projects were selected by Brazilian director Karim Aïnouz, international sales Luxbox CEO Hédi Zardi, former festival director of Tokyo Filmex Kanako Hayashi and other notable industry veterans.
SEAFIC will conduct three lab sessions, the first of which will take place on Feb 24 – Mar 3 at Monoceros Resort in Chiang Mai, Thailand. The second session will also be in Chiang Mai while the final session, SEAFIC Open House, is in November.
The selected projects will once again be automatically enrolled in the SEAFICxPAS programme, the producer's lab jointly run with Nantes Festival des 3 Continents' Produire Au Sud.
The full list of the five projects:
Autobiography
Dir: Makbul Mubarak, Prod: Yulia Evina Bhara (Indonesia, first film)
Skin of Youth
Dir: Ash Mayfair, Prod: Tran Thi Bich Ngoc (Vietnam, second film)
Some Nights I Feel Like Walking
Dir: Petersen Vargas, Prod: Alemberg Ang, Jade Castro (Philippines, second film)
Till the Cave Fills
Dir: Nguyen Le Hoang Viet, Prod: Joshua Levy, Nguyen Le Hang (Vietnam, first film)
The Women
Dir: The Maw Naing, Prod: Oh Youngjeong (Myanmar, second film)