Among the most anticipated Spanish productions of the year are a Paleolithic period drama, the new Almodovar and a regal role for Penelope Cruz.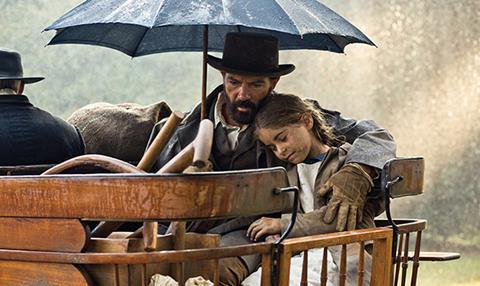 A Monster Calls
Dir JA Bayona
A Monster Calls completes Bayona's trilogy exploring motherhood, after The Orphanage and The Impossible. Patrick Ness has adapted his novel about a boy who seeks refuge in a fantasy world. The English-language film, which shot in Spain and the UK, stars Liam Neeson. It is a Spain-US co-production between Apaches Entertainment with Telecinco Cinema, Peliculas La Trini, Participant Media, River Road Entertainment and Lionsgate. Set for release in the autumn, it will be distributed in Spain by Universal Pictures International, in the US by Focus and in the UK via eOne.
Contact Lionsgate International: www.lionsgate.com
Abracadabra
Dir Pablo Berger
Berger's follow-up to Blancanieves again stars Maribel Verdu, this time as a housewife determined to fight the spirit possessing her husband. Set to shoot this year, Abracadabra is a co-production between Spain's Arcadia Motion Pictures and Atresmedia Cine with France's Noodles Production. Sony Pictures Spain has local rights.
Contact Films Distribution:info@filmsdistribution.com
Altamira
Dir Hugh Hudson
This drama sees Antonio Banderas as the man who discovered the Palaeolithic cave paintings of Altamira, Spain, in the 19th century. The English-language film is a Spanish production for 20th Century Fox and is produced by Morena Films' Lucrecia Botin and Alvaro Longoria, with Andy Paterson of the UK's Sympathetic Ink and Alexandra Lebret of France's Mare Nostrum. Fox plans an April release in Spain.
Contact Morena Films:morenafilms@morenafilms.com
Julieta
Dir Pedro Almodovar
Emma Suarez and Adriana Ugarte star respectively as the older and younger Julieta, a teacher who wants to get back in touch with her daughter to explain the secrets she has kept for the past 30 years. The film is scheduled to be released locally in March by Warner Bros Spain. Sony Pictures Classics has US rights.
Contact FilmNation::info@filmnation.com
The Olive Tree
Dir Iciar Bollain
Following their award-wining collaboration on Even The Rain in 2010, director Bollain and UK screenwriter Paul Laverty have reteamed for this story of a spirited young woman who is determined to give hope to her beloved grandfather. A Spain-Germany co-production between Juan Gordon's Morena Films and Match Factory Productions, The Olive Tree will be released by Entertainment One in Spain in May.
Contact Seville Films International: sevilleinternational@filmsseville.com
Oro
Dir Agustin Diaz Yanes
Diaz Yanes has adapted a short story by Spanish author Arturo Perez-Reverte about an expedition led by conquistadors in the Amazon jungle in the 16th century. Set to star Oscar Jaenada and Barbara Lennie, Oro is being produced by Atresmedia Cine, Sony Pictures Spain and Apache Films. It is in pre-production and shoots later this year. Sony Pictures International has worldwide rights.
Contact Sony Pictures: www.sonypictures.com
The Queen Of Spain
Dir Fernando Trueba
Trueba and Penelope Cruz reunite 18 years after The Girl Of Your Dreams for a sequel, the much-awaited The Queen Of Spain (La Reina De Espana). Trueba, who directs and produces through Atresmedia Cine, starts shooting The Queen Of Spain this month. Universal Pictures has Spanish rights.
Contact Fernando Trueba Productions:www.fernandotrueba.com
Smoke And Mirrors
Dir Alberto Rodriguez
Last year, Rodriguez savoured success with Marshland, which picked up 10 Goyas, excellent reviews and $8m at the local box office. Now he is back with Smoke And Mirrors (El Hombre De Las Mil Caras), a corruption thriller ripped from the headlines. Biutiful's Eduard Fernandez stars as notorious secret agent Francisco Paesa. The film is being produced by Atresmedia Cine, Zeta Zinema, Atipica Films and Sacromonte. Warner Bros will release in Spain.
Contact Film Factory: v.canales@filmfactory.es
Tad, The Lost Explorer: The Hero Returns
Dirs Enrique Gato, David Alonso
The wannabe archaeologist returns for this animated sequel; the original grossed $19m (¤18m) in Spain in 2012. Telecinco Cinema, Telefonica Studios, 4 Cats Pictures, Lightbox Entertainment and Ikiru Films produce. Paramount Pictures has worldwide rights.
Contact Ikiru Films: www.ikirufilms.com
To Steal From A Thief
Dir Daniel Calparsoro
Spain's Luis Tosar and Argentina's Rodrigo de la Serna head the cast of this political thriller, centring around a bank heist that falls foul to unexpected complications. Telecinco Cinema, Vaca Films and Morena Films produce. Fox handled the theatrical release in Argentina and Spain in March.
Contact Film Factory: v.canales@filmfactory.es
Uncertain Glory
Dir Agusti Villaronga
Villaronga and producer Isona Passola join forces again after the critically acclaimed Black Bread (Pa Negre) to adapt Uncertain Glory, the classic Catalan novel about the Spanish Civil War, by Joan Sales. Shooting is scheduled to begin in April.
Contact Film Factory: v.canales@filmfactory.es