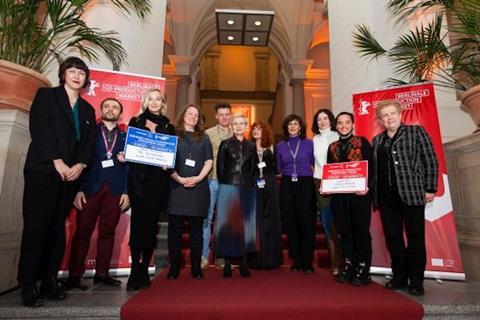 The Berlinale Co-Production Market has awarded its top prize to Spain project Iván & Hadoum.
The feature won the Eurimages Co-Production Development Award, worth €20,000. Director is Ian de la Rosa, a screenwriter on HBO Max series Veneno whose short film Farrucas, won a 2021 Gaudi Prize and Goya nomination. The producer is Avalon, co-producer and distributor of Carla Simón's Berlinale Golden Bear winner Alcarràs.
This year, an additional €20,000 prize was donated by Eurimages to support Ukrainian project The Blindsight by Ruslan Batytskyi. It is produced by 2Brave Productions, led by producers Olha Beskhmelnytsina and Natalia Libet.
The VFF Talent Highlight Award of €10,000 – promoting one promising project from the Talent Project Market – went to God And The Devil's Cumbia, directed by Carlos Lenin. It was pitched at the Berlinale Co-Production Market by producers Daniel Loustaunau, of Mexico's Colectivo Colmena, and Paloma Petra, of Mexico's Huasteca Casa Cinematográfica.
Nominee awards of €1,000 each went to producers Vildan Ersen (Gatalo Films) from Turkey and Jaime Guerrero Naudin (Rara Cine) from Colombia.
This year's ARTEKino International Award went to Peeled Skin by Leonie Krippendorff, produced by Germany's Kineo Filmproduktion. The €6,000 award is presented to an "artistically outstanding project" from the co-pro market, which ran from Feb 18-22.
For the first time this year, in-kind prize the World Cinema Fund Audience Strategies Award was given to a project from a WCF-supported country. It was awarded to producers from Colectivo Colmena and Huasteca Casa Cinematográfica from Mexico and director Carlos Lenin, who will receive extensive consultation on optimising the audience and communication strategies of their film project, God and the Devil's Cumbia.