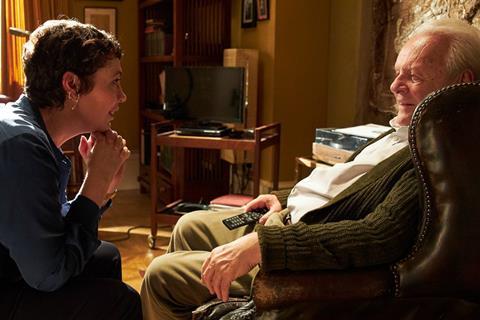 Sony Pictures Classics (SPC) has set a December 18 release date for awards contender and TIFF selection The Father starring Anthony Hopkins and Olivia Colman.
Florian Zeller's film is set to open in cinemas in New York and Los Angeles, and will expand into most major markets on December 25.
The majority of sites in both markets currently remain closed due to the pandemic lockdown.
The Father screens at a TIFF drive-in tonight (September 14) and screens on the festival's platform tomorrow.
SPC acquired The Father prior to its world premiere at Sundance this year and screens at TIFF on. Hopkins receives this year's TIFF Tribute Actor Award on Tuesday.
Zeller and Christopher Hampton wrote the screenplay about a father-daughter duo – one mischievous, the other caring – in the former's twilight years.
Mark Gatiss, Rufus Sewell, Imogen Poots and Olivia Williams round out the cast.