The management and staff of Venice Film Festival and its parent cultural body the Biennale di Venezia will be deservedly feeling a sense of satisfaction as they debrief following this year's extraordinary 77th edition, which unfolded September 2-12 with the Covid-19 pandemic still very much a presence in everyone's lives.
Not only was it the first major international film festival since the Berlinale in February, it also ran without any major hitches. Obligatory mask-wearing around the festival complex and during screenings; regular temperature checks at security checkpoints; extra Covid-19 tests for delegates coming from outside Europe; and the need to book screenings and industry conferences online up to 72 hours in advance were all seen as necessary inconveniences in this unusual year.
They did little, however, to dampen the overall mood of joy among around 5,000 accredited attendees (against 12,000 in a normal year) as they revelled in being physically back on the festival circuit and watching films in cinemas after months of small-screen life.
As of this weekend, Biennale di Venezia's president Roberto Cicutto said there had been no reported Covid-19 cases related to the festival. This could change over the days ahead but thus far the festival appears to have done a good job in keeping its attendees safe while retaining the festival spirit.
Can other festivals now follow Venice?
International festivals will undoubtedly be looking closely at how Venice managed to pull off this "historic" and "experimental" edition. Masks, temperature checks and social distancing in cinemas and delegate areas are all measures they can adopt but there are some aspects of the festival that may not be replicable.
Notably, Venice unfolds over a relatively compact space with the festival, press and industry activities located in a six-square kilometre area on the Lido around the Palazzo del Casino and the Palazzo del Cinema as well as the Excelsior and Quattro Fontane hotels. This meant it was relatively straightforward to set up a security perimeter with half a dozen temperature and security checkpoints. Other big A-list festivals like Cannes and Berlin, which spill out into their home cities, would find it harder, if not impossible, to impose such a cordon.
Venice's decision to abandon its public red carpet to deter big crowds, which would have made social distancing difficult, was also an effective measure that other festivals could copy but the event's island location on the Venice Lido, some 50 minutes across the lagoon from the mainland, also played its part in keeping bystanders away.
Another factor in the festival's favour was the arrival of Roberto Cicutto as the Biennale di Venezia's new president. A Venice native, who has returned home after decades working in the film industry in Rome, he reportedly played a key role in mustering local and regional government support for this special edition, which could have easily faltered as Covid-19 cases began to rise across Europe at the end of August.
And that raises the final crucial factor: Venice may also have benefitted from a brief lull in the Covid-19 pandemic after the European-wide lockdowns of the spring and early summer. Covid-19 cases have started rising again as populations started moving during the summer holiday period and now return to work and study.
Will Alberto Barbera be back next year?
In his ninth consecutive edition as artistic director (and 14th overall counting his previous 1998-2002 reign), Barbera pulled off what many had thought impossible even a few weeks ago in mounting a physical film festival. In the process, he also provided reassurance to a nervous industry that the place of film festivals remains as robust and important as ever in the wider international ecosystem.
Attention now naturally turns to Barbera's future with the festival. Given his own declared desire to remain in the post, and the fact that Venice without him might be more than the Biennale wants to contemplate right now during uncertain times, there is a strong sense that Cicutto and the Biennale board may offer to extend his contract for another year – as they did last year when his second four-year contract expired.
Barbera, who says he anticipates a decision by mid-October, is easily the longest-serving artistic director in Venice's history and this year also surpassed predecessor Marco Mueller in terms of consecutive years at the helm (Mueller made it to eight editions).
Chloé Zhao wins big but few other female-directed films win prizes
Winning the Golden Lion for Nomadland, Chloé Zhao has become the first female filmmaker to win Venice's top prize since Sofia Coppola lifted the trophy in 2010 with Somewhere. Zhao's win comes in the wake of criticism in recent years especially over the historic lack of female representation in Venice's main competition.
The debate hit new heights in 2019 after only two of the 21 competition titles were directed by women. This year, eight of 18 Golden Lion contenders, or 44% of the competition, were female-directed films. It remains to be seen if this year's near-gender parity was a blip or signals a new era for women at the world's oldest film festival.
However, Nomadland was the only feature directed by a woman to be awarded one of the eight prizes in the Competition section by the Cate Blanchett-led jury. Sure, it was the big one and does compare slightly better to last year when the only competition prize for a female-directed feature went to Toby Matthews for best new talent for Shannon Murphy's Babyteeth, but it's still only one.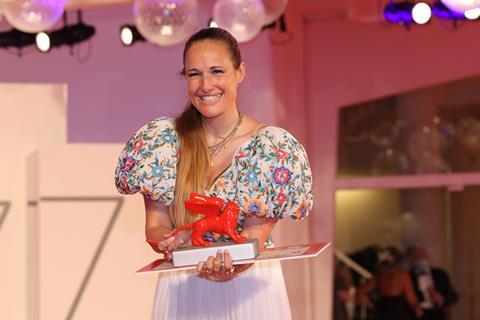 In Horizons, Claire Denis's jury gave prizes to two female-directed features: Ana Rocha de Sousa's Listen won the special jury prize, while Kaouther Ben Hania's The Man Who Sold His Skin landed best actor for lead Yahya Mahayni.
No film directed by a woman won a prize in Horizons 2019.
Listen also won the Lion of the Future 'Luigi De Laurentis' award.
The all-white competition jury raises eyebrows
In the year of the Black Lives Matter protests and worldwide debate on the need for greater diversity and inclusion within key cultural establishments, Venice's all-white competition jury was a surprise. But given the exceptional pandemic circumstances of this year's edition and the complications of getting people based outside of Europe into Italy, this outcome provoked only minor ripples in the media and no protest.
But the festival is likely to come under greater scrutiny next year. The last black competition jury member was Spike Lee in 2004, under Marco Mueller's watch. He joined John Boorman, Helen Mirren, Pietro Scalia, Scarlett Johansson, Wolfgang Becker, Mimmo Calopresti, Dusan Makavejev and Xu Feng in awarding the Golden Lion to Mike Leigh's Vera Drake.
US-based Chinese director Zhao is the first Asian woman to win the prize since Mira Nair, who triumphed with Monsoon Wedding in 2001, and the fifth woman to take home the top award in the festival's 88-year history. Zhao joins a select few that includes Coppola, Nair, Agnes Varda (who won with Vagabond in 1985), and Margarethe von Trotta (whose Marianne And Juliane won in 1981).
Now firmly on the road to the Oscars, Zhao could become the first Asian woman to receive an Academy Award nomination for best director.
Finally, the awards conversation quietly begins
Even after Venice, nobody wants to talk about awards properly: it's too early this year, and also, it risks looking tasteless. Venice was, after all, the first time we've seen a red carpet since March, and it was pretty restrained, socially distanced – glamorous, but with a barricade between it and the general public. There's a sense now that awards can and will take place, and the conversation can begin, and we have titles to feed into that.
Signifying that this is a different year, the festival was not a launchpad for studio fare, but brought more intimate, meaningful films to its audience – this will almost certainly be a theme of this year's awards season.
Nomadland (the only 'studio film' from Searchlight), Pieces Of A Woman, One Night In Miami, and The World To Come have now joined the conversation-that-has-yet-to-be-had, alongside Sundance titles The Father and Never Rarely Sometimes Always. All were shared titles with Toronto, Nomadland being at the point of day-and-date.
Foreign-language contenders and surefire local hits include New Order (Mexico), Dear Comrades! (Russia), Quo Vadis Aida? (Bosnia) and The Disciple (India).
No one festival will dominate the awards conversation this year; as Nomadland's shared status with Toronto indicates, 2020 is an awkward group hug between former rivals.