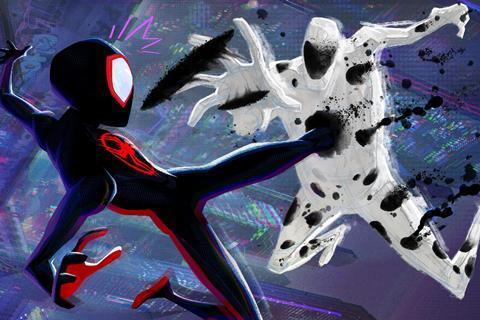 Jason Schwartzman has joined the voice cast of Sony Pictures Animation (SPA) sequel Spider-Man: Across The Spider-Verse, which debuted new footage to a rapturous audience at Annecy International Animation Festival today.
Schwartzman will play an antagonist called The Spot, a foe to Miles Morales' returning Spider-Man. The Spot is a character in the Marvel Comics series; and has the ability to open pathways to new dimensions through spot marks on his body.
The sequel to 2018's Spider-Man: Into The Spider-Verse is in production, and scheduled for release on June 2, 2023; with a third film, Beyond The Spider-Verse, scheduled for March 2024.
Directors Joaquim Dos Santos, Kemp Powers and Justin K. Thompson presented first footage from the film to a packed screening at Annecy, in the inaugural major studio presentation at the first in-person Annecy festival since 2019.
The footage was a mix of completed animation, in-progress work and storyboards. The scenes shown included Gwen Stacy being assisted in taking down a villain called The Vulture at New York's Guggenheim Museum; and Morales running late for then attending his parent-teacher meeting at school.
Writers and producers Phil Lord and Chris Miller were not in Annecy, but sent a video message. The sequel seems to maintain the quick-quipping dialogue of the first, with jokes about Morales' poor grades in Spanish, and how Puerto Rico is part of the United States.
Shea Whigham will voice Gwen's police chief father George, with Jorma Taccone as The Vulture. Previously announced voice cast include Oscar Isaac as Miguel O'Hara, another version of Spider-Man and Issa Rae as Jessica Drew, a pregnant Spider-Woman – the duo who help Stacy; plus returning cast Shameik Moore as Morales and Hailee Steinfeld as Stacy.
The film is "so much bigger and even more visually ground-breaking than the first," Powers told the audience. It is a first proper appearance for Isaac's O'Hara, who Dos Santos described as "more feral, intimidating, futuristic" than any previous iteration of Spider-Man. "On the crew we've come to call this guy 'property damage Spider-Man'," joked Dos Santos, given the amount of buildings the character destroys.
Kevin Noel, senior vice president of production at SPA had opened the showcase, revealing that over 240 characters will be featured across the two Spider-Verse sequels.
Paper planes
While awaiting the showcase, the excited audience engaged in an Annecy tradition, of throwing paper planes from their seats, and applauding whenever one made it to the stage.
Once the showcase began, the atmosphere was raucous, more akin to a sports match than a film festival, with speakers regularly interrupted by cheers and applause. "We need you guys in the office with us!" quipped Powers.