BlacKkKlansman and Do The Right Thing director Spike Lee has said that increasing diversity in film industry "gatekeepers" is the next "battlefield" in the ongoing push for greater inclusivity.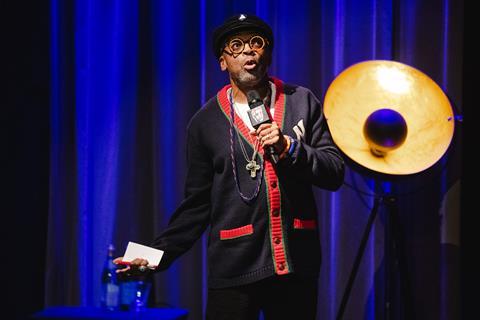 "There are very few people [who look like me] in those rarefied positions, what I call the gatekeepers. These are people who decide what we're making and what we're not making. That's the next battlefield," said the director.
"We're making films…but when are we going to get in the position where we have a vote [in what gets made]? Films are made by a green light committee, a group of people who sit in a room, they look at the budget, who's in it, and they decide who's directing it, who's going to write it - and we [black people] are not in that room.
"If you saw Hamilton, there's a great song, and you gotta be in the room to make it happen [referencing the song The Room Where It Happens]. If you're not in the room then you're out of luck," he continued.
Lee was in London to deliver Bafta's David Lean lecture, the annual public address hosted at Bafta's London HQ.
The director - a winner of both an honorary Bafta and Oscar in his career - also used the platform to stress that racism in the 21st century, a topic tackled head-on in BlacKkKlansman despite the film's period setting, was not just an issue in America and is very much a concern around the world.
"What you see in the film is global. This rise of the right is something we have to look at. America's more guilty of this than anybody - of just being focused on - no one else matters. But we have to involve the people, we have to start looking at stuff with a global viewpoint because this stuff is all connected.
"I want audiences to understand that what you see in this film BlacKkKlansman is not just a peculiarity of America, this stuff is global and it's happening all over. If you study history, what's happening today is from the same playbook of all fascists - where you blame somebody, whether it be blacks, Jews or those Mexicans," he commented.