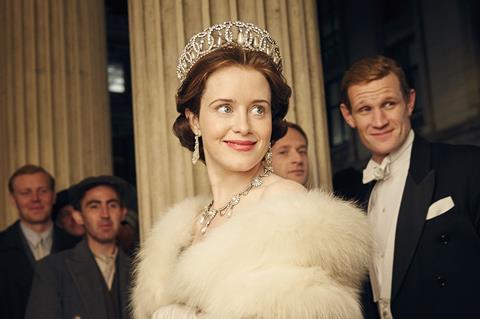 Broadchurch and Spooks producer Jane Featherstone has warned that the "honeymoon period" is over around international co-productions between UK broadcasters and SVoD partners (reports Broadcast).
The Sister Pictures founder and former Kudos boss used her Bafta Television Lecture on Monday (30 October) to warn that the "co-production tap will be turned off or reduced to a trickle".
She explained: "We know that SVoDs are going to start ramping up commissioning of only fully owned original programmes, meaning they won't need to co-produce anymore," she said, providing the example of Left Bank's The Crown for Netflix.
"Why keep investing in shows when they don't own the territory most likely to make that show a hit? It doesn't make sense for them."
Featherstone estimated that the industry had between a year and 18 months before the FAANG group (the acronym being used for Facebook, Apple, Amazon, Netflix and Google) stop co-producing entirely, save for specific talent-driven content.
Featherstone went on to highlight the exclusive talent deal struck between Netflix and Grey's Anatomy producer Shonda Rhimes in August, warning that "more will follow" that will impact the UK.
"Imagine a world in which Sally Wainwright worked exclusively for Apple, Pete Bowker worked only for Netflix, or Mike Bartlett was Amazon-only? Exclusivity will be the next stage in this battle for talent," she said.
"You might ask, if the writers are still writing somewhere, it's fine isn't it? The cold hard truth is that we don't yet have the depth of storytelling talent to lose Sally, Pete or Mike from free-to-air BBC, Channel 4 or ITV – we simply don't have enough to go around."
"If you think it's challenging getting the best talent now, imagine what it will be like when 15 more scripted series a year are being commissioned out of the UK?" she continued.
Featherstone later said in a roundtable interview that the industry could not "pretend that the lure of mass viewing on BBC1 is going to be enough to hold on to the talent we want to hold on to."
"Some will stay, definitely, because they want to be part of that ecology that is the BBC. But there will be plenty of people for whom their show will sit better on Netflix. There is going to be a drain. Look at The Crown – the BBC wanted The Crown, and Netflix just bought them out of that deal."
Featherstone, who is making two shows with Netflix, including BBC1 co-production Giri/Haji, said indies also had a responsibility to pursue domestic-facing projects.
"They don't make as much money, so it is sometimes harder to justify them if you're building a business," she told Broadcast.
"That will be part of the challenge for the BBC and ITV. The shows we make for them won't be as financially viable."
New talent
Featherstone also used her lecture as a rallying cry around fostering creative excellence in mainstream programmes.
"Viewers want and need to see their contemporary world represented: relevant, domestic stories that look at Britain but also our place in the world, and it's our responsibility to deliver them," she said.
"If we don't find stories from all cultures and corners of the UK, in all its diverse glory, and tell them in the mainstream, the audience fragments and fractures further, and retreat to niches."
Featherstone said there weren't enough people wanting to tell "big, complex stories about big issues, slap bang in the middle of the mainstream."
"We seem to be confining our taste in stories that examine the popular mood to factual dramas. Why aren't as many new writers telling more fictional stories to entertain us and make us think?"
The indie boss noted that new writers are increasingly influenced by US shows such as Master of None and The Wire, which raised the "quality aspirations" of the group but also resulted in a gradual readjustment of the industry's narrative focus from the mainstream to the niche.
Pointing out that new writers had fewer opportunities to train and develop their craft in today's TV landscape, Featherstone urged UK studios, indies, buyers and SVoDs to invest in new writing talent and follow the lead of Sister Pictures, which is to launch a 12-month, salaried writer-in-residence programme.