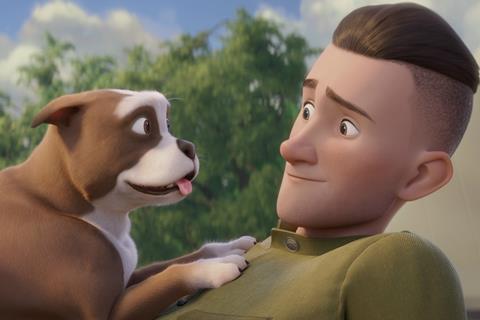 Los Angeles-based Spotlight Pictures has boarded international rights to feature animation Sgt. Stubby: An Unlikely Hero and will introduce to Cannes buyers next week.
Helena Bonham Carter, Logan Lerman, and Gerard Depardieu feature in the voice cast on the animation from Ireland's Fun Academy Media Group.
Sgt. Stubby is currently on a 1,600 screen run in the US and follows the adventures of Stubby, a dog who befriends a soldier in the First World War and is decorated for his courage.
"We are extremely excited to be working with Spotlight," producer Laurent Rodon said. "As we bring Sgt. Stubby to market, we were looking for a sales agent who connected with our film's message and audience. Spotlight's keen understanding of both genre and global value of the film made them an ideal partner."
"What Laurent and the director, Richard Lanni, managed to achieve in this animation is amazing," Spotlight's director of acquisitions Walter Moura said. "They both did an incredible job of telling a historical event in a fun, beautiful, and entertaining way."
Moura negotiated the deal on behalf of Spotlight with Rodon.