EXCLUSIVE: Nymphomaniac actress to co-star with Robert Pattinson, Tim Roth and Berenice Bejo.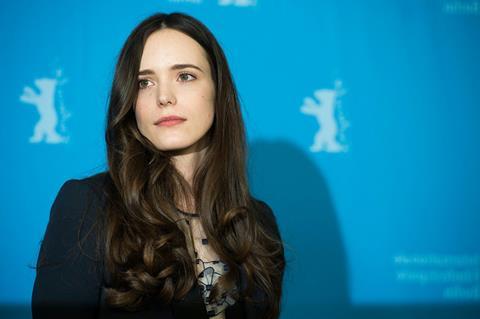 Stacy Martin, who played the youthful heroine exploring her erotic life in Lars Von Trier's Nymphomaniac, has joined the cast of Brady Corbet's The Childhood of a Leader.
Martin, a former Screen International Star of Tomorrow, will next be seen in Ben Wheatley's JG Ballard adaptation, High-Rise.
The Childhood of a Leader, sold by Protagonist Pictures and co-starring Robert Pattinson, Tim Roth and Berenice Bejo, is in pre-production and is set to shoot in Budapest in January.
The $5m feature is a collaboration between Swedish producer Helena Danielsson, Chris Coen from Unanimous Entertainment (UK) and Antoine de Clermont Tonnerre from Mact Productions (France). Co-producer is Ildiko Kemeny of Pioneer Pictures Hungary.
Corbet's debut
It marks the feature directorial debut of Corbet, a US actor best known for roles in Melancholia, Martha Marcy May Marlene and Thirteen. More recently, Corbet starred in Cannes titles Saint Laurent, Force Majeure and Clouds of Sils Maria as well as Toronto titles Eden, While We're Young and Escobar: Paradise Lost.
The Childhood of a Leader is billed as "a chilling fable about the rise of fascism in the 20th Century".
It tells the story of a young American living in France in 1918 whose father is working for the US government on the creation of the Treaty of Versailles.
What he witnesses helps mould his beliefs and the film bears witness to the birth of a terrifying ego. Martin is to play the boy's French teacher.
Cult singer-songwriter Scott Walker is composing an original soundtrack for the film.
Brain Academy
Prolific producer Danielsson is also part of a new company launching in time for Mipcom, which kicks off today.
The new company, named Brain Academy, is an international production outfit dedicated to creating, producing and delivering "high quality, original and entertaining scripted entertainment across the world, on all platforms".
Brain Academy has been created by Peter Settman (the founder of Baluba Television in Stockholm) in collaboration with Nice Entertainment Group, a fully owned subsidiary of the international media group Modern Times Group.
Danielsson and fellow producer Daniel Lägersten are also part of the start-up.
The Pact
On the eve of Mipcom, the Swedish producer revealed details of one of the first major projects from Brain Academy - a 10-part drama titled The Pact.
The political thriller tells the story of five childhood friends involved in an accidental killing. As adults, they are forced to reunite to conceal the their old crime.
Daniel Lägersten will act as showrunner on the series.