Video of JJ Abrams on the set of Star Wars: Episode VII, including a previously unseen creature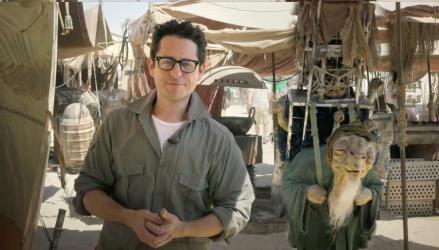 Abu Dhabi has been confirmed as the first location for Star Wars: Episode VII, due for release in December 2015.
Director J.J. Abrams and cast flew to Abu Dhabi in early May, with the support of the Abu Dhabi Film Commission and UAE production facility twofour54 intaj.
Hundreds of local and international cast and crew are currently working on the production in Abu Dhabi with key production staff working closely with twofour54 intaj since January.
Kathleen Kennedy, president of Lucasfilm said: "We were very excited to start the filming of Star Wars: Episode VII in Abu Dhabi – it has been an incredible place to commence this journey."
Six UAE nationals had the opportunity to work on set, through twofour54's creative lab community internship programme. Two of the interns will be given the opportunity to follow the production to London's Pinewood Studios.
International productions to shot in Abu Dhabi over the past 12 months include paranormal thriller Deliver us from Evil from Sony Pictures Entertainment, Universal Pictures' Fast & Furious 7 and Bollywood feature film Bang Bang from Fox Star Studios.
Each benefitted from support the Abu Dhabi Film Commission including a 30% production rebate.
Set video
Abrams shot a special video message from the set in Abu Dhabi (see above) to announce the creation of Star Wars: Force for Change, a brand new from Disney and Lucasfilm in collaboration with Bad Robot dedicated to finding creative solutions to some of the world's biggest problems.
The first campaign will raise funds and awareness for the United Nations Children's Fund's (UNICEF) Innovation Labs and its innovative programs that are benefitting the world's most vulnerable children.
To support the launch, Disney has committed $1m, and fans are being invited to contribute atOmaze.com/StarWars for a chance to appear in the film. The campaign runs until July 18