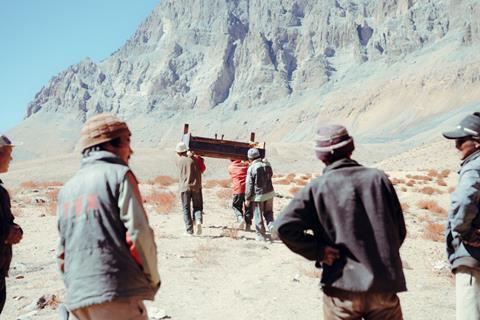 Starline Entertainment has taken worldwide rights to Michal Sulima's documentary Piano To Zanskar. Starline said the film fits into its "expanding portfolio of narratively driven documentaries."
Piano To Zanskar, which won the works in progress award at Edinburgh International Film Festival in 2017, follows the journey of Desmond Gentle, a 65-year-old piano tuner from London who wants to bring a 100-year-old piano to a small school in the remote Himalayas. The expedition takes the crew, including a team of Sherpas, across breathtaking, perilous landscape.
The documentary features an original soundtrack by Werner Herzog collaborator Ernst Reijseger. The producer is Jarek Kotomski of Between Friends, the company he runs with Sulima. The protagonist, Desmond Gentle, serves as executive producer. The film is at the end of post-production for delivery later this month.
Starline's director of acquisitions Piers Nightingale, who discovered the project at EIFF and forged the deal with Kotomski, said: "An extraordinary story with unique characters impossible not to love, this is a beautifully realised, deeply life-affirming film with an appeal as universal as music itself. Michal is a genuine talent and we're immensely proud to be working together with him and Jarek on this wonderful debut."
Sulima added: "Above all, I wish for the story to inspire and bring joy, whilst subtly encouraging reflection on its deeper themes of change, age, happiness, altruism, harmony and determination, all of which comprise the film's true backbone."
London-based Starline's EFM slate also includes hip-hop chronicle Born In New York, Raised In Paris; espionage story My Grandfather The Spy; and Havana-set documentary Cuban Soul.