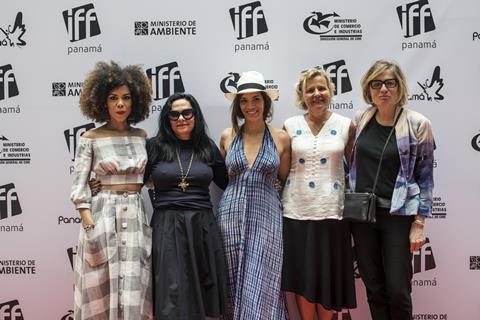 The need for strong mentors, mutual support, and strong workplace boundaries were among the themes that emerged from an IFF Panama panel on the role of women.
"Start a collective of women because that's the most powerful thing," New York-based producer Laura Michalchyshyn said. "That's how you start to make change. As a producer I ask who are the lead and who are the supporting roles. If women are attached to minor roles or demeaning roles without substance, I throw it in the trash."
Michalchyshyn (pictured far right), who co-founded Sundance Productions with Robert Redford and recently produced Netflix documentary series Bobby Kennedy For President, said she enjoyed fostering careers of young women and sought to collaborate with people who excelled in areas where she was not so strong.
"Right now Hollywood is looking for woman and woman of colour because audiences are watching their content," Michalchyshyn said. "The role we have as decision-makers is to say to the world, 'I'm not going to work on projects that don't give woman an equal chance."
"We need to be aware of patriarchy in order to question it," Dominican actress Laura Gomez (pictured centre) from Orange Is The New Black told Saturday's (April 7) panel on women's role in a global world moderated by IFF Panama director Pituka Ortega Heilbron.
Gomez plays the owner of a Dominican boxing club in IFF Panama selection Sambá and explained the character was originally written as the girlfriend of the ring owner. When she challenged that she was pleased to see how receptive directors Israel Cárdenas and Laura Amelia Guzmán were to the idea.
"When you start to research your characters, the more will be revealed in the work. There was an evolution of that character and I challenged the stereotype of a Dominican woman."
Anna Serner (pictured second from right), the CEO of the Swedish Film Institute and a renowned speaker and activist on the subject of gender equality in the film industry, outlined five points that a report from Norway had highlighted as commonly used suppression techniques used on female executives in the corporate world.
As Serner explained, the techniques are: making women invisible – overlooking women in meetings and not offering praise when praise is due; ridiculing women; 'double-punishing' a working woman, who might be made to feel guilty for not spending enough time with her child, and then made to feel guilty for not attending to her work when she goes home to be with her child; shaming and inflicting guilt; and the withholding of information by men, who share information in male-dominated social activities such as hunting and saunas (particularly in the Nordic region), and golf.
"Women are harassed in the work environment – we didn't use to report it but now we're getting more courage to report it," Brazilian producer Vania Catani (pictured second from left) of Bananeria Filmes said.
Catani added that 42% of production companies in Brazil were led by women. "We're creating a behavioural manual for men," she said. "It's like a script and tells them, 'Don't touch a woman. No means no.' In Brazil we have a problem where men never behave. We also have a new generation of feminists. It's a long fight but we're just getting started."
Dominican actress Judith Rodriguez (pictured far left) from Woodpeckers (Carpinteros) said, "It's very common in Latin America to normalise abuse – and abuse is when I say 'No' and you don't listen."
Rodriguez added: "The issue here is to build equality – that's what feminism is. It's simply a search for equality – something that should have been done years ago but isn't there yet. Let's remove that ancestral chip that harms us."