Entertainment One reveals plans to reorganize global film structure.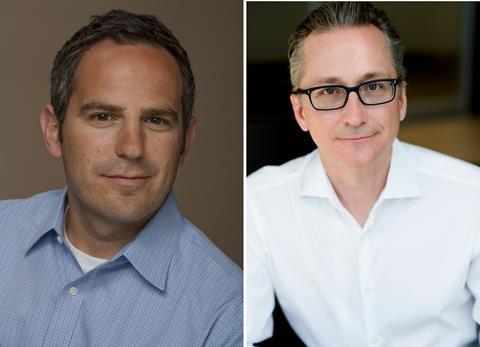 eOne veteran Patrice Theroux is to leave the production-distribution powerhouse with former DreamWorks executive Steve Bertram joining the company as president, Global Film Group, reporting to Darren Throop, CEO.
Théroux, who joined eOne in 2007 to run the outfit's film division, will continue to collaborate with eOne through a film and TV development deal.
Former Paramount and Relativity exec Bertram joins eOne from DreamWorks where he most recently led new business development and operations.
Reporting directly to CEO Jeffrey Katzenberg, Bertram was responsible for building and managing the company's new technology initiatives and strategic partnerships.
Bertram will lead film activities globally for the acquisitive mini-studio eOne, including supervision of eOne's direct distribution operations in Canada, the UK, the US, Australia/New Zealand, Spain and the Benelux.
He will also oversee the company's growing film production and international sales operations and will work to expand the company's partnerships, production and distribution activities.
"Our well-established film operation will undoubtedly benefit from Steve's business acumen, wide-ranging experience in global film distribution, production and financing, as well as his knowledge of emerging technology and evolving consumption trends," said Throop of Bertram.
Theroux's legacy
Dealmaker Theroux was key to building eOne into one of the world's largest and most successful indie film divisions.
Under his reign the company struck box office gold with the Twilight franchise, which grossed more than $2.5bn worldwide.
His tenure also saw the outfit launch significant film sales and production activities with recent acquisitions including Dalton Trumbo biopic Trumbo, starring Bryan Cranston and Helen Mirren, and Gavin Hood's Eye in the Sky.
"While it's very difficult to bid adieu to eOne, I know that I leave each our film teams in the very strong and capable hands of our division leaders," commented Théroux.
"I am proud of the business we built and the very many talented partners I had the fortune of working with at eOne, relationships that will undoubtedly continue, and I am looking forward to my next adventures.
"I would like to thank my partner Darren Throop for his support, dedication and trust as we brought our vision to life."
"I've had the privilege of working closely with Patrice over many years, starting when we formed eOne's filmed entertainment business," added Throop.
"While it is always difficult to say goodbye to colleagues, I am very pleased that we will continue to work together as Patrice moves on.
"Since joining eOne, Patrice has championed the team with vision, passion and a demand for excellence. In appreciation of his comradery, insight, and leadership, we wish to thank Patrice and look forward to working with him again."