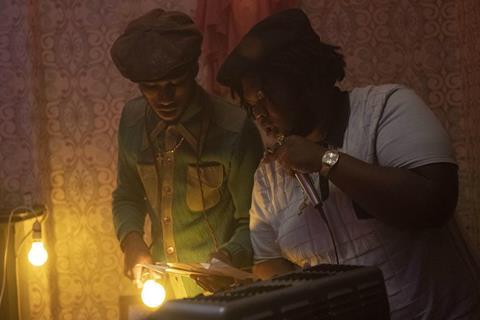 Steve McQueen's Lovers Rock will get its world premiere as the opening night film of this year's New York Film Festival (NYFF), set to run September 25 to October 11.
The film is part of McQueen's BBC-commissioned anthology series Small Axe and two other films from the anthology – Mangrove and Red, White And Blue - will also get their world premieres as part of the NYFF main slate, which will be announced in coming weeks.
The 58th edition of the festival, presented by Film at Lincoln Center, will focus on outdoor and virtual screenings, with indoor screenings "as possible and directed by state and health officials," according to a festival statement.
The five-title McQueen anthology, set from the late 1960s to the mid-1980s among London's West Indian community and produced by Turbine Studios and the filmmaker's Lammas Park company, will premiere on BBC One later this year and air on Amazon Prime Video in the US. BBC Studios distributes internationally.
Lovers Rock, set at a 1980s blues party, was co-written by Courttia Newland and McQueen and stars Amarah-Jae St. Aubyn and Micheal Ward.
Mangrove, co-written by Alastair Siddons and McQueen, tells the true story of a group of Black activists who clashed with London police during a 1970 protest march. Letitia Wright, Shaun Parke and Malachi Kirby star.
Red, White And Blue, also co-written by Newland and McQueen, stars John Boyega and Steve Toussaint in the true story of a man who saw his father assaulted by two policemen and joined the Metropolitan Police to change racist attitudes from within.
Lovers Rock and Mangrove were recently named as part of the Cannes 2020 Official Selection.
Commenting on the NYFF selection, McQueen said: "It's an incredible honour and also very humbling to show three of my films at the New York Film Festival. It's especially meaningful for me at this particular time to share these stories as a Black man of West Indian heritage. I'm grateful to the NYFF for their generosity and wish everyone a safe and healthy festival."
NYFF director Eugene Hernandez added: "In the coming weeks we'll unveil the films our programmers have selected for the 2020 New York Film Festival. For months we've worked to both sustain and refresh NYFF — a champion of film as art since 1963 — and we're honoured that filmmaker Steve McQueen accepted our invitation to open the 58th New York Film Festival in an unprecedented manner, with one of three remarkable new films he'll unveil at NYFF."