After leaving his postition as editor of BBC Storyville, Fraser is launching a doc streaming platform with CEO Lawrence Elman.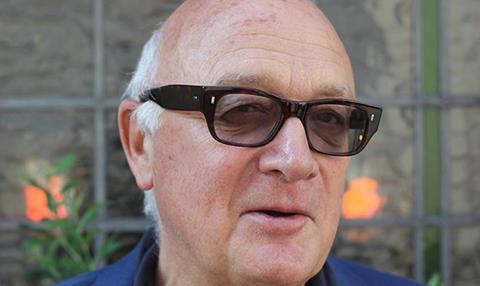 After two decades at the helm, documentary supremo Nick Fraser has stepped down from his position as editor of BBC Storyville.
He is continuing to executive produce and collaborate on various projects (including major new African documentary, Sierra Leone: An Artist's Journey and Final Account, a doc based on 1000 hours of material of "old Nazis sitting in their living rooms" assembled by Luke Holland.)
He is also writing a wide-ranging book on his life in documentary for Faber. However, his current major project is the new doc streaming service Yaddo, which launched in Europe last month and is due to expand to expand to 160 territories worldwide in November. Yaddo has backing from Swedish tech company, Magine. The subscription based service will co-finance films as well as show them. Among the initial crop of films it is backing are Oink, a film about pigs in the world economy; Gawker vs Thiel and a doc about athletics in Jamaica.
Screen sat down with Fraser and Lawrence Elman, CEO and founder of Yaddo, to discuss their new initiative.
Was it a wrench to leave Storyville after all those years?
Fraser: It is always a wrench leaving something as good as Storyville but all good things come to an end. For a long, long time I had been interested in creating other means in which people can watch documentary…I had a great time running Storyville. It was really the best thing in my whole career but I think about how people are going to watch documentary in ten years time. Yaddo is more than a clue, more than an experiment but it is something we can make work.
So are docs disappearing from traditional broadcasters?
Fraser: It's not so much at the BBC but I think there has been a reluctance among schedulers at TV stations to show documentary. Channel 4 barely shows any documentaries any more. They show a lot of factual programmes but they don't show what I think of as documentary. You have to start thinking that if these wonderful things are not going to be on TV, where are they going to go. Long term, more and more people will be watching documentary online…there are cuts in almost every broadcaster in Europe. Yaddo can bring fresh sources of funding and can collaborate with broadcasters in finding films. That's what we are there for.
Netflix and Amazon are both active in documentary. Will they be rivals or potential partners for Yaddo?
Fraser: They have enough money to blow any parter out of the water. The BBC cannot afford to compete with Netflix and Amazon and nor can we. Our calculation is that there is a large niche audience globally for a site that is showing the sort of stuff that increasingly Netflix and Amazon, who are very Americano-centric, won't bother with. I think it is really interesting for us to get more Korean documentaries, more Chinese and Japanese documentaries.
Do Netflix and Amazon have a benign or malign influence on the doc sphere?
Fraser: I think they have a good influence. I went out to LA recently and most American documentaries have moved out to LA to be near to Netflix. I don't think that is a bad thing at all.
What is Yaddo's attitude toward cinema? If you're not looking for exclusivity, would you be fine for docs you support to be given theatrical releases?
Fraser: It (cinema) is good for filmmakers. It increases their exposure. It's another source of funding so we don't have any problems with that at all. The point about Yaddo is that we aim to show the widest spectrum of documentaries possible from ones that appear in cinemas to 5 minute films made for the internet. We show everything. The only criterion is that it should be brilliant and absorbing.
How deep are your pockets?
Elman: Unlike Amazon, which has revenue of $100 billion, our pockets aren't close to as deep as that. I'd say our pockets are deep enough that we can fund in the next year, including our shorts, up to 100 films, whether it is co-financing or full financing. We've already commissioned over 50 short films. The first full commission, which is actually in production now, is the Oink film, the pig film as we like to call it. We've always felt that on this side of the pond, making films in Europe, you can make them for less money than in America. I am not quite sure why that is…we have the capacity to finance and co-finance films. We won't make a film with a budget over $500,000. It doesn't make sense to us.
So you could fully finance a documentary up to $500,000?
Elman: Correct. We are doing one at the moment.
How will you define success?
Elman. We have simple and modest projections. By December, we'd like to be at around the 7000 (subscriber) mark.A failure would be if in a year's time, we still only had 7000 subscribers. A success would be if we hit 100,000 subscribers within a year.