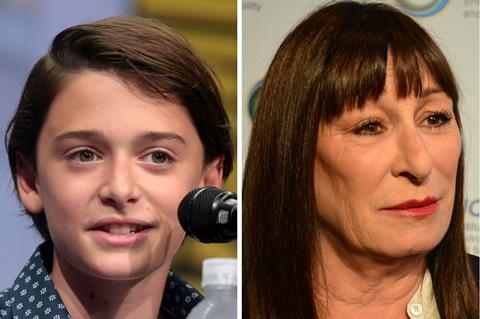 Noah Schnapp, one of the stars of Netflix series Stranger Things, will lead Ben Cookson's Waiting For Anya, an adaptation of Michael Morpurgo's novel of the same name.
Anjelica Huston (The Witches) has boarded the supporting cast alongside Thomas Kretschmann (The Pianist), Elsa Zylbertsein (I've Loved You So Long) and Tomas Lemarquis (X-Men: Apocalypse).
UK-based Goldfinch Studios is launching the project on its European Film Market (EFM) production slate. Sales are being handled by LA-based 13 Films.
Producers are Phin Glynn for Bad Penny Productions, Alan Latham for Goldfinch Studios and Steffen Wild for Fourth Culture Films. Executive producers are Kirsty Bell, Victor Glynn, Geoffrey Iles, Gareth Wiley and the film is co-produced by Daz Spencer-Lovesey.
Shooting will commence later this year on location in France. The film will be set during the Second World War and will follow a young shepherd boy (Schnapp) involved in smuggling Jewish children across the border into Spain. Toby Torlesse adapted the script from Morpurgo's novel, which was first published in 1990.
Morpurgo commented: "Whilst you are writing your story, it becomes precious to you. When someone creates a play or a film from your story, what you care about most is that it means as much to them; that they catch the spirit of it, that they grow the story with integrity and love and skill, and do it their own way, in their own voice.
"I have no doubt that the team making the film of Waiting For Anya will do all that and more. I wish them all, actors, crew, writers and producers and director, all the success they deserve."
Schnapp is represented by Untitled Entertainment, CAA and McKuin Frankel Whitehead.
Goldfinch's slate also boasts Sometimes Always Never starring Billy Nighy, Sam Riley and Jenny Agutter.