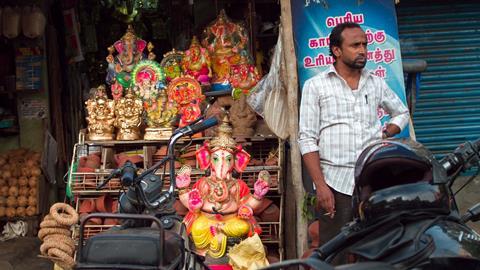 Paris-based sales company Stray Dogs has picked up international rights to Arun Karthick's Nasir, which will receive its world premiere in the Tiger Competition of the upcoming International Film Festival Rotterdam (IFFR).
The Tamil-language drama revolves around the struggles of a Muslim salesman and aspiring poet, living in the Indian state of Tamil Nadu, who faces an increasingly toxic society as Hindu nationalism starts to take hold.
Produced by Mathivanan Rajendran's Chennai-based Stray Factory, the film is co-produced by Reinier Selen and Ibo Karatay of the Netherlands' Rinkel Film. Co-producers on the film also include Samir Sarkar, Jasmine Sarkar, Manoj Poosappan, Harsh Agarwal, Aditya Grover and Anu Rangachar.
Based in Coimbatore, Tamil Nadu, Karthick made his feature debut with The Strange Case Of Shiva, which received a gap financing award at India's Film Bazaar in 2014 and premiered at IFFR in the Bright Future section in 2016. Nasir was supported by the Hubert Bals Fund for script development and the NFF+HBF co-production fund.
Ironically, since the film was selected for IFFR, India has been rocked by protests against two new controversial pieces of legislation – the Citizenship Amendment Act (CAA) and National Register of Citizens (NRC) – which are regarded as being discriminatory towards the country's Muslim population.
Stray Dogs also recently picked up international rights to Malayalam-language drama Jallikattu, directed by Lijo Jose Pellissery, which premiered at last year's Toronto International Film Festival. The allegorical drama, about a buffalo that breaks free and creates a trail of destruction, also played in the A Window on Asian Cinema section in Busan.