EXCLUSIVE: TrustNordisk rides more deals on Norwegian box office smash.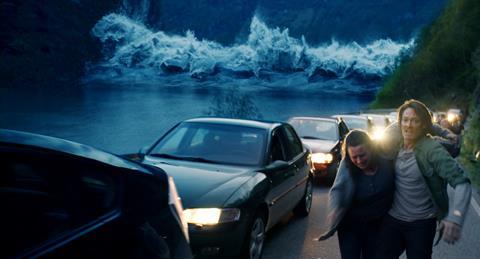 TrustNordisk has secured additional deals on Norwegian Oscar hopeful and local box office smash The Wave.
New deals have been closed for the UK (StudioCanal), Russia (Volga Film), Czech Republic (Film Europe) and Poland (Mówis Serwis Dystrybucja Spólka) on director Roar Uthaug's disaster thriller about a violent tsunami which wreaks havoc at one of Norway's most scenic tourist destinations.
The well-received Toronto and LFF title, which debuted at Haugesund, has been the most successful film at the Norwegian box office this year, clocking more than 753,000 admissions over seven weeks.
The film is the fourth best-performer since 2003 and now ranks as the tenth best-performer of all-time in Norway.
Kristoffer Joner (King Of Devil's Island) and Ane Dahl Torp (1001 Grams) star in the feature produced by Martin Sundland and Are Heidenstrøm for Fantefilm Fiksjon in co-production with Fuzz, Filmkraft Invest, Storyline Studios, Film i Väst, Piggy Bænk, Copenhagen Film Fund, Ghost and Tre Vänner and Gimpville with support from The Norwegian Film Institute and Nordic Film & TV Fond and The Swedish Film Institute.
Magnolia acquired US rights to the adventure-thriller last month.
Other previous sales include Germany, Austria and Switzerland (Square One Entertainment), France (AB Group), Japan (Inter Film), Spain (Key2Media Audiovisual), Latin America (California Filmes), Italy (Minerva Pictures Group), Canada (Mongrel Media) and China (New View TV and Media Group) among others.