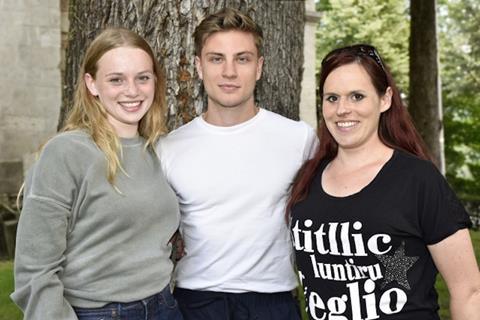 Studiocanal is to handle world sales on Tim Trachte's adaptation of Jessica Koch's debut autobiographical novel So Near The Horizon (Dem Horizont so nah) which is set to go into production this autumn.
Pantaleon Films is partnering with Studiocanal's German production arm, Studiocanal Film for the first time to produce the film which will also be co-produced by SevenPictures Film.
A release by Studiocanal in German cinemas is planned for 2019.
The story about two young lovers is based on the real-life experiences of novelist Koch, with 19-year-old Swiss actress Luna Wedler playing the fun-loving Jessica and Jannik Schümann as the dashing, confident Danny who is harbouring a dark secret.
Earlier this year Wedler was selected as one of the European Shooting Stars at the Berlinale and received the best lead actress prize at the Swiss Film Awards for her first lead role in Lisa Brühlmann's Blue My Mind.
She also starred in Aron Lehman's The Most Beautiful Girl In The World, which had its world premiere at Munich Filmfest and will be released by Tobis Film on September 6.
Schümann was nominated for a Bunte New Faces Award for his supporting role in Christian Petzold's Barbara in 2012 and was cast Jakob M. Erwa's coming out film Die Mitte der Welt, Alain Gsponer's dystopic literary adaptation Jugend ohne Gott and Anika Decker's comedy High Society.
So Near The Horizon was the bestselling German-language ebook in Germany in 2016 and it has since reached over 800,000 readers.
Koch has since published the second and third parts of the so-called 'Danny Trilogy' in Germany: Dem Abgrund so nah and Dem Ozean so nah.