EXCLUSIVE: New research by the online film marketplace Slated claims it can forecast Acadaemy Award success as early as development stage.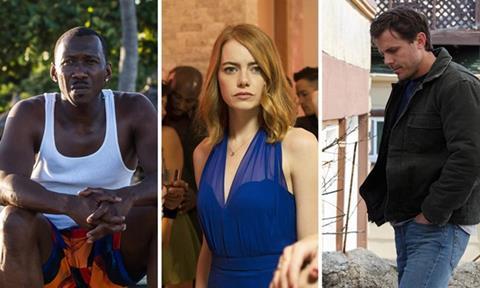 A report published on Wednesday titled 'The Secret Formula Predicting Oscar Gold 2 Years In Advance' makes the connection between Slated's Script Score (See footnote 1) ranking and Rotten Tomatoes, which has become a critical metric used by Hollywood distribution chiefs.
Slated's data science team analysed hundreds of films released mostly between 2010 and 2016 and found that films with a Slated Script Score below 75 were unlikely to be Certified Fresh on Rotten Tomatoes (See footnote 2), although likelihood doubled with every five-point rise on the Script Score metric.
When Slated overlaid an ROI (return on investment) curve on the same data points, researchers found that films with a Script Score below 75 tended to deliver a 1.67x ROI and as the score increased so did the rate of return, reaching 4.83x for scores of 85 or above.
For the purposes of calculating ROI, Slated divided a film's worldwide theatrical gross by production budget, marketing and distribution costs as well as the impact of tax credits. Assuming a 50/50 back-end split with producers and other financing fees, Slated views an ROI of 2.8 or above as the greenlight threshold.
Correlation between Script Score, Certified Fresh and nominations
When Oscar nominations are added into the equation, the study found a "remarkably strong" correlation between Script Score, the likelihood of being Certified Fresh and earning a nomination.
The study group found that projects with a Slated Script Score below 75 had a 7% chance of an Academy Award nomination and chances increased with every five-point rise on Script Score.
Films with a Script Score of 85 or higher stood a 60% chance of getting a nomination.
Where a script score in the 60-75 range delivered a 7% chance of a nomination there was a 2% chance of a win, rising to a score of 85 or higher where a 60% nomination chance resulted in a 44% likelihood of a win.
Based on the data set, an average of 2.8 nominations resulted in an average of 1.5 wins, rising to an average of 5.9 nominations giving rise to an average of 2.4 wins.
How Manchester By The Sea could win more than two Oscars
Manchester By The Sea earned six Academy Award nods and a 96% Certified Fresh score on Rotten Tomatoes. While the project's 70.5 Script Score ranking by Slated suggests on average a 2% chance of an Oscar win, the film's nominations elevates it to the bracket of films with a score of 85 or higher and thus a 44% chance of a win.
In the case of Manchester By The Sea, that means a possible 2.4 Oscar wins. However statistically there is a 56% chance Kenneth Lonergan's drama will leave the Oscars empty-handed. The film has amassed $43.1m at the worldwide box office.
Academy Awards frontrunner La La Land has a joint record 14 Oscar nods, a Certified Fresh score of 93%, and a Script Score of 82.9, which puts it close to the range of a 44% likelihood of a win. Worldwide gross is $227.8m.
The same can be said of Arrival on eight nominations, a 94% Certified Fresh score, an 83.6 Script Score and $185.7m worldwide, and Moonlight on eight nods, 96% Certified Fresh score, an 81.8 Script Score and $18.1m worldwide.
Turning to recent Oscar best pictures winners, The King's Speech converted 12 nominations into four wins, scored 95% on Rotten Tomatoes, and 85.6 on Script Score. It finished on $414.2m worldwide.
The Artist was nominated for 10, won five, achieved 97% on Rotten Tomatoes, and 82.1 on Script Score. It grossed $133.4m worldwide.
'Anyone can now draw a predictive line'
An excerpt from the report reads: "So many of these unexpected success stories have already been anointed long before the Golden Globes and various critics circles cemented their statuette credentials.

"Thanks to the wonders of data science, anyone can now draw a predictive line from how projects are measured at script stage all the way to how reviewers will respond upon first viewing those finished films and their subsequent chances of both awards recognition and commercial success."
(1) The Slated Script Score assigns a number to a script based on feedback from three trained readers who grade the effectiveness of 10 factors in the script such as premise, dialogue, originality and craft.
Assignments are assigned scripts on a double-blind, random basis, meaning readers and script submitters are never aware of each other's identity. A reader will not get a script to a film they have seen.
Scores of 90 or above are regarded as exceptional in every way and awards worthy. Anything over 80 is viewed as excellent.
(2) To be Certified Fresh on Rotten Tomatoes, a film must score at least an average of 75% from a minimum of 80 reviews by Tomatometer Critics on a wide release and at least 40 reviews on a limited release – in both cases including at least five Top Critics.