STXinternational, a division of STX Entertainment, has struck a deal with Sony Pictures Home Entertainment for the latter to take on home ent distribution for STX's slate in the UK and Ireland.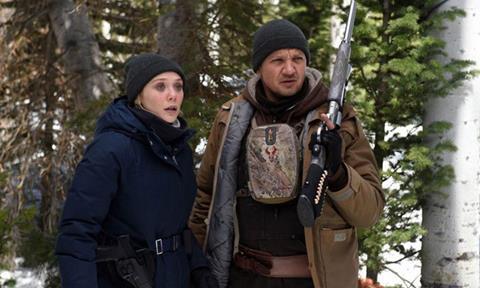 The multi-year deal will see Sony handle distribution and marketing for STX releases from January 2018, commencing with Taylor Sheridan's Wind River [pictured], which stars Jeremy Renner and Elizabeth Olson.
Further titles included in the deal are romantic comedy Home Again starring Reese Witherspoon and Andy Serkis's directorial debut Breathe, which opened this year's BFI London Film Festival last week.
"We are thrilled to be working with STX. This deal enables us to build on our formidable reputation as a leading distributor and signifies our profound understanding of the home entertainment marketplace. We look forward to exploiting our resource and expertise to bring this exceptional slate to audiences across the UK and Ireland," commented SPHE president, Man Jit Singh.
"As the home entertainment business continues to evolve, this new partnership allows us to leverage our collective strengths and assets to grow our distribution business across platforms," added David Kosse, president of STXinternational.
"Sony Pictures is a leader in global home entertainment, and we look forward to joining forces to bring STXinternational's exciting slate of star-driven projects to consumers in the UK and Ireland."