Warner Bros' comic book adaptation scores fourth-biggest opening of the year.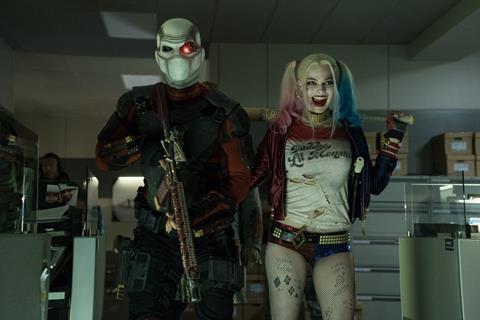 UK TOP FIVE
| Ranking | Film/Distributor | Weekend gross | Running total |
| --- | --- | --- | --- |
| 1 | Suicide Squad (WB) | $14.6m (£11.2m) | $14.6m (£11.2m) |
| 2 | Finding Dory (Disney) | $5.2m (£4m) | $21.1m (£16.2m) |
| 3 | Jason Bourne (Universal) | $3.2m (£2.44m) | $18.4m (£14.05m) |
| 4 | The BFG (eOne) | $2.2m (£1.7m) | $26.4m (£20.2m) |
| 5 | Star Trek Beyond (Paramount) | $1.2m (£900,000) | $16.9m (£12.94m) |
(Note - Dollar conversions are based on today's rates)
WARNER BROS
Battling both the sun and a critical bashing, Suicide Squad shot to the top of the UK box office on debut.
Warner Bros' comic book adaptation scored a strong $14.6m (£11.2m) opening from its 573 sites, marking a $25,488 (£19,546) site average. It's already director David Ayer's best-ever UK performer. Based solely on Fri-Sun, it's the biggest August opening of all time.
The debut marks the fourth-biggest overall opening of the year, but the third-biggest Fri-Sun tally ahead of Deadpool's $13m (£9.97m). It's the ninth-biggest superhero opening of all time and the eighth-biggest opening Fri-Sun, again ahead of Deadpool.
Earlier this year, Batman v Superman: Dawn Of Justice landed with $19.1m (£14.62m) and went on to take $47.7m (£36.58m). A similar run for Suicide Squad would see it end around £30m.
More than 40% of Suicide Squad's opening weekend came from Friday (including midnight screenings), which could suggest a fast-burn run. Its midweek performance and hold this coming weekend will give a clearer indication.
Also for Warner Bros, The Legend Of Tarzan is nearing the end of its UK run and stands at $11.8m (£9.07m).
DISNEY
Hit hard by the good weather, Finding Dory fell 51% in its second weekend as it dropped to second with $5.2m (£4m).
Disney's latest Pixar offering enjoyed a terrific first week as it amassed $21.1m (£16.2m) across its opening seven days, meaning it has now reached $26.5m (£20.3m) after only ten days in play.
In the coming days, Finding Dory will pass the likes of Brave ($28.9m/£22.16m), Toy Story ($29.3m/£22.49m) and Wall-E ($29.9m/£22.9m).
UNIVERSAL
Falling 54% (excluding previews), Jason Bourne raced to a $3.2m (£2.44m) second weekend as it dropped to third.
Universal's action sequel is up to $18.4m (£14.05m) after 12 days in play and is now the second-highest grossing Bourne outing in the UK.
It's currently tracking ahead of series leader The Bourne Ultimatum, which stood at $16.9m (£12.93m) at the same stage.
Also for Universal, The Secret Life Of Pets hopped to an extra $584,000 (£447,219) for an excellent $41.9m (£32.07m) after seven weeks in play.
Central Intelligence now stands at $11m (£8.46m).
EONE
The BFG fell 50% on its way to a non-final $2.2m (£1.7m) third weekend from its 621 sites.
eOne's Roald Dahl adaptation enjoyed another prosperous midweek session with $5.2m (£4m) added over Mon-Thurs, and has marched past the £20m mark with $26.4m (£20.2m) to date.
Also for eOne, Now You See Me 2 has conjured up a lacklustre $8.1m (£6.2m).
PARAMOUNT
Star Trek Beyond phased to a $1.2m (£900,000) third weekend after a drop of around 60%.
Paramount's latest mission for the USS Enterprise crew now stands at $16.9m (£12.94m), and will end its run as the lowest-grossing outing to date of the rebooted series.
SONY
In its fourth week, Sony's Ghostbusters has hit the £10m mark at the UK box office thanks to a $391,000 (£300,000) weekend.
FOX
Falling a further 40% in its fourth weekend, Fox's Ice Age: Collision Course added a non-final $149,000 (£113,858) for a soft $8.5m (£6.48m) to date.
Also for Fox, Absolutely Fabulous: The Movie has amassed a superb $20.4m (£15.6m) after six weeks in play.
SODA PICTURES
Released in 27 sites through Soda Pictures, Up For Love posted a non-final UK debut of $18,000 (£13,751). Its leading site was the Everyman Belsize Park, followed by the GFT and Curzon Bloomsbury.
UPCOMING RELEASES
This week sees saturation releases for Fox's Mike And Dave Need Wedding Dates (opens Aug 10), Lionsgate's Nerve (opens Aug 11), Sony's The Shallows and Disney's Pete's Dragon.
Soda Pictures' Ingrid Bergman: In Her Own Words and Picturehouse Entertainment's Weiner-Dog are among the films receiving a limited release.