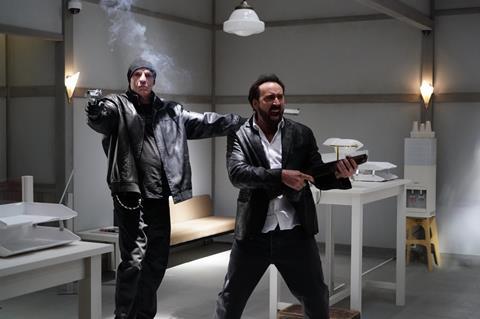 RLJE Films has acquired US rights from XYZ Films to Sion Sono's Sundance entry Prisoners Of The Ghostland starring Nicolas Cage.
Michael Mendelsohn's Union Patriot Capital Management fully financed the Patriot Pictures and XYZ Films feature starring Cage as a bank robber sprung from jail by a wealthy warlord to rescue his granddaughter from a frontier town.
Cage's character will reclaim his freedom if he succeeds in the mission but does not have much time – he is strapped into a leather suit that will self-destruct within three days.
Sofia Boutella, Nick Cassavetes, Bill Moseley, Tak Sakaguchi and Yuzuka Nakaya star alongside Cage.
XYZ Films handles world sales and will introduce the film to international buyers after Sundance ahead of the virtual EFM in March.
Japanese genre director Sono (Why Don't You Play In Hell) makes his English-language feature debut from a screenplay by Aaron Hendry and Rexa Sixo Safai.
Mendelsohn, Laura Rister, Ko Mori, Safai, and Nate Bolotin produced, while Natalie Perrotta, Nick Spicer, Aram Tertzakian, and Yuji Sadai served as executive producers.
RLJE Films chief acquisitions officer Mark Ward brokered the deal with XYZ Films.