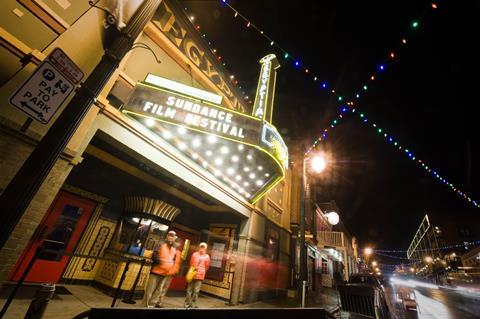 Sundance Institute on Wednesday (29) said this year's Sundance Film Festival generated a total economic impact of $182.5m for the state of Utah.
The third annual study by market research firm Y² Analytics revealed the festival produced more than $18.6m in state and local tax revenue, supported 3,052 jobs, generated $94m in Utah wages, and attracted more than 122,000 attendees from 48 states and 35 countries.
Since 2015, the festival has generated a $681.5m economic impact for the state of Utah, more than $66.7m in state and local tax revenue, and supported more than 11,900 jobs.
According to the study, the 2019 festival drew more than 122,000 attendees, of whom more than 43,500 came from out of the state, contributing $170.6m of the total impact. Some 21% indicated attending the festival was their first visit to Utah, and 88% said they would likely visit Utah again within the next year.
Per-person spending for out-of-state visitors averaged $3,410 over an average stay of five days. Lodging generated $69.9m, recreation/entertainment $39.9m, and meals $36.6m. There was a $19.3m spend in alternative transportation methods to alleviate congestion.
Attendance estimate data was provided by Blyncsy, a Utah-based company which assigned anonymous ID numbers to each unique cell phone found at a festival venue. Total visitor spending was calculated by combining the number of visitors with information from online and intercept surveys where attendees reported on how much they had spent during the festival. Total economic impact was extracted from that by applying the latest (2015) RIMS II economic multipliers produced by the U.S. Bureau of Economic Analysis.
"Since its founding, the Sundance Film Festival has become an important part of the cultural and economic fabric of Utah," said governor Gary Herbert. "Utah is a great destination for tourists year round, but during the Festival we really get to engage in the worlds of film and the arts. We appreciate our ongoing partnership with Sundance Institute."
"On top of our exciting screenings and live programming, the Sundance Film Festival is proud to bring an increasingly wide and diverse audience from around the globe to Utah each year to support both our artists and our home state," said Sundance Institute managing director Betsy Wallace. "We're grateful for our audiences' dedication, as well as the wide-ranging benefits that they bring, especially in allowing us to showcase the state of Utah to the world."