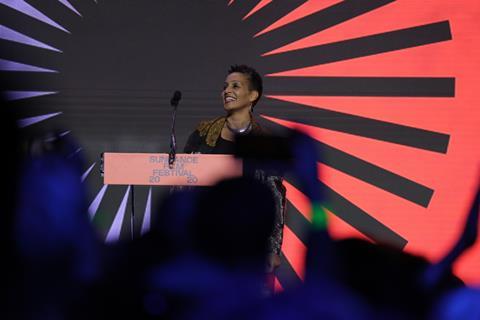 The 2021 Sundance Film Festival's (January 28-February 3, 2021) roster of more than 70 features will debut online for seven days alongside drive-ins and physical screenings at arthouse sites across the US.
Every film will be geoblocked to the US and play on Sundance's platform, with select titles opting for global accessibility. The full talks and events programme and 14 XR and emerging media entries in New Frontier will be available globally.
Day One selections will debut on the evening of January 28, and in the ensuing days, clusters of features will screen roughly every three hours from 10am-10pm local time, followed by Q&A's with talent.
Viewers can start to watch films any time within three hours of the premiere's start time, and every selection will return to the platform, powered by Shift72, two days after their premiere as an on-demand option for 24 hours.
The entire feature line-up will be closed-captioned on demand, and Q&As will be live-captioned.
The Short Film and Indie Series (formerly Indie Episodic) programmes will comprise 50 shorts and world premieres of four episodic works – all available on demand on the platform throughout the festival.
New Frontier audiences will be able to engage with content, artists, and each other on a customised platform accessible via computer and VR headsets that encompasses a big-screen cinema and interactive social space.
The nationwide network of satellite arthouse screen partnerships encompass Austin Film Society in Texas; Rose Bowl in Pasadena, California; The Jacob Burns Film Center in New York; Honolulu Museum of Art in Hawaii; and Asociación de Documentalistas de Puerto Rico and Museo de Arte de Puerto Rico, among others.
Each venue and its partners will curate events, share local cultural conversations with broader festival audiences, and screen festival selections. Details will be publicised once the programme is announced.
Sundance will also set programme screenings at The Ray in Park City and the Rose Bowl and Mission Tiki Drive-Ins in Los Angeles, subject to health and safety guidelines.
The festival platform comprises Festival Village for events and complementary programming involving sponsors, satellite screens and partners; Main Street, housing digital partner spaces, conversations, and music; and networking site The Artist Lounge.
"Even under these impossible circumstances artists are still finding paths to make bold and vital work in whatever ways they can," said Tabitha Jackson, who is in her first year as festival director. "So Sundance, as a festival of discovery, will bring that work to its first audiences in whatever ways we can.
"The core of our festival in the form of an online platform and socially distanced cinematic experiences is responsive to the pandemic and gives us the opportunity to reach new audiences, safely, where they are. And thanks to a constellation of independent cinema communities across the U.S. we are not putting on our festival alone."
"Our festival footprint has changed this year, but we are excited to bring an incredible community together in new ways to engage with new artists and new stories – whether they're joining us for the first year or have been for decades," said Sundance Institute executive director Keri Putnam.