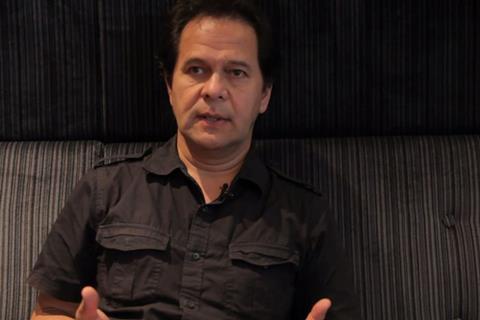 Double Sundance-winning director Leonard Retel Helmrich was unable to finish his latest film because he had a heart attack earlier this year that left him in a coma, it has been revealed by his family.
His new film, The Long Season, about Syrian refugees who've fled ISIS and are living in a camp in Lebanon, was completed by producer Pieter van Huystee and Syrian artist, Ramia Suleiman, after his heart attack.
The film is a world premiere this week at International Documentary Film Festival Amsterdam (IDFA). World sales are handled by Films Transit.
Speaking this week, the director's sister Hetty Naaijkens-Retel Helmrich has given a full account of what happened to the filmmaker who won the World Cinema Jury Prize Documentary in Sundance both for Shape Of The Moon (2004) and Position Among The Stars (2010). The family had been keeping the details of Retel Helmrich's heart attack out of the media until the film was completed.
Retel Helmrich had a heart attack in Lebanon in late January this year. He went without oxygen for 9 minutes. "It was so severe he couldn't do anything. He was totally paralysed. After 8 days, he opened his eyes. Later, he could move his arms and legs," his sister recalls.
After a month, the director was brought home to Netherlands. He was in intensive care until April, when he moved to a nursing home. He has recently moved to a rehab centre, is improving sharply and Hetty Naaijkens-Retel Helmrich expects him to assist her on her new film, Sounds Of Origin.
At present, the director is communicating by using letters on a qwerty keyboard but his family hope he will soon recover the use of his vocal chords.
"It's a process but it is coming," Hetty Naaijkens-Retel Helmrich said of her brother's condition.
Leonard Retel Helmrich is the pioneer of "single shot cinema" and invented special camera equipment which enables him to shoot his documentaries in very fluid and intimate fashion.
Pieter Van Huystee and Suleiman completed The Long Season, editing it according to Helmrich's style. The film's four-hour timeline was already in place. Retel Helmrich is also a teacher, he had a Radcliffe Fellowship at Harvard University, and has run many workshops on Single Shot Cinema. Van Huystee and Suleiman were able to draw on his teaching as they tackled the post-production.
Following its world premiere at IDFA this week, The Long Season will be released on Dutch cinemas by Mokum Film Distribution.