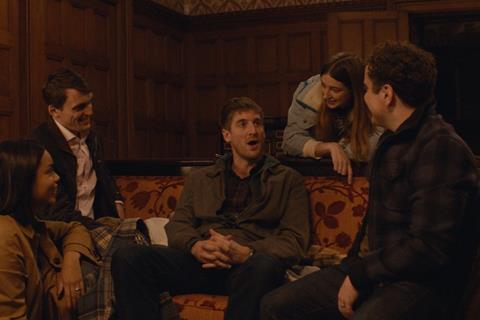 Boutique label Super Ltd has acquired North American rights to Andrew Gaynord's UK feature directorial debut and Tribeca selection All My Friends Hate Me.
The film received its world premiere in the international narrative competition and centres on a college reunion that turns sour when Pete suspects his friends may be out to get him.
Tom Palmer and Tom Stourton co-wrote the screenplay, and Palmer produced. Stourton stars alongside Charly Clive, Georgina Campbell, Joshua Mcguire, and Antonia Clarke.
Mason Speta negotiated the deal for Super Ltd with Endeavor Content on behalf of the filmmakers.
SUPER LTD earned its first Oscar nomination this year with Jasmila Žbanić's Quo Vadis, Aida?, Bosnia and Herzegovina's Official Oscar submission. It recently released Theo Anthony's All Light, Everywhere, and Gianfranco Rosi's Notturno, Italy's official submission for the Academy Awards that was shortlisted for Best Documentary Feature.
The upcoming roster includes Tony Stone's Ted K, David Darg and Price James's documentary You Cannot Kill David Arquette, Jack Bryan's Active Measures, and Gene Graham's This One's for The Ladies.