Luca Guadagnino's remake (more reimagining) of Dario Argento's cult Giallo horror Suspiria landed at Venice Film Festival today (September 1) with two press screenings ahead of its public world premiere in Venice tonight.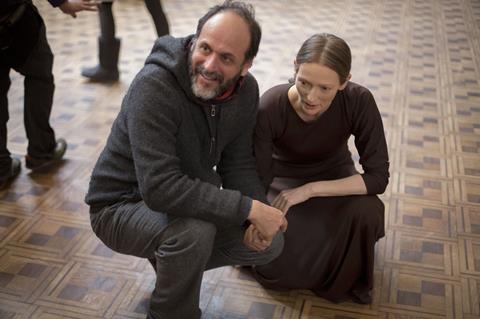 The film certainly polarised sections of the audience, with several walk-outs during one of today's screenings, but the reception to Guadagnino and his cast - including Tilda Swinton, Dakota Johnson, Chloe Grace Moretz, Mia Goth and Jessica Harper - at the packed-out press conference was rapturous.
Questions immediately veered towards the character of Dr. Jozef Klemperer, a central figure in the film said to be played by unknown German actor Lutz Ebersdorf. For roughly a year now, there have been strong rumours that Ebersdorf is in fact Swinton (who officially only plays one character in the film, the matriarchal Madame Blanc) in prosthetics, and recent reports have even suggested that she may play one or two more characters in its latter stages.
Pre-empting the discussion, Swinton presented a letter to attending press, supposedly penned by Ebersdorf himself, which suggested he was a retired psychoanalyst living in Berlin. The letter stated that he was "a private person" and that he "strongly suspects" Suspiria is the only film he will ever appear in, a line greeted with laughter from the press contingent.
Quizzed on the casting, Guadagnino was poker-faced in his answer, saying that he thought "the audience would enjoy to see a new face", adding that he thought it would be fun, "and it was".
Pushed further on whether it was her behind the apparent mask, Swinton added that she hoped an Oscar campaign might be launched for Ebersdorf this coming awards season.
During the conference, director Guadagnino was also asked about his take on the #MeToo movement, which he praised for raising awareness. "I hope that this [Suspiria], and my previous and future work, will come from an idea of never being in a position of repressing anyone else because of power," he said.
The director was also quizzed about his connection to Argento, "I love Dario. We love Dario. I'm a stalker of master filmmakers. When I was 15 somebody called my mom and told her there was Dario Argento in a restaurant so I ran over there and stared at him from the window."
Radiohead frontman Thom Yorke, who composed the film's score, and writer David Kajganich were also in attendance. Yorke commented that writing songs for the film was akin to "performing spells".
Asked whether she found the sinister and at times extremely violent film challenging, Johnson said that the experience was "the most fun, exhilarating and joyful that it could be".
Responding to suggestions that she saw a psychotherapist after shooting, she explained that she regularly does that after finishing a part, as a way of getting "a lot of feelings" off her chest. One member of the audience suggested that perhaps she could have talked to Ebersdorf himself.