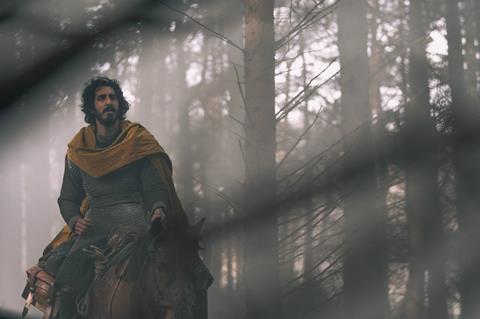 SXSW has landed the world premiere of The Green Knight, David Lowery's retelling of the Arthurian tale featuring a high-calibre cast from the UK and Ireland including Dev Patel and Barry Keoghan alongside Alicia Vikander and Joel Edgerton.
Sarita Choudhury, Sean Harris, Kate Dickie, and Ralph Ineson also star in the film in which Patel plays King Arthur's headstrong nephew Sir Gawain, who embarks on a quest to challenge the eponymous character.
Along the way, Gawain encounters ghosts, giants, thieves and schemers as he journeys into the essence of his own true nature to prove his worth in the eyes of his family and people.
The premiere will take place on March 16. A24 film will release The Green Knight in the US on May 29.
Lowery premiered his first feature St. Nick at SXSW in 2009, and in 2011 his film Pioneer won best narrative short. He served as a mentor at the 2013 SXSW conference, and three years later participated in an on-stage conversation with fellow filmmaker Andrew Bujalski.
The festival is scheduled to run from March 13-22 and at time of writing was set to go ahead despite coronavirus concerns.