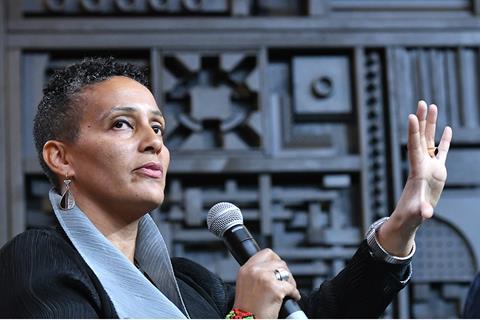 Sundance Institute has announced that its head of the Documentary Film Program Tabitha Jackson will succeed John Cooper as Sundance Film Festival director.
The appointment of the British-born industry veteran and former head of arts and performance at Channel 4 Television was unveiled during Saturday's awards ceremony (February 1) and follows months of speculation.
Outgoing festival director Cooper announced last June he would step down from the role after this year's festival (and 11 years in the role) and is preparing to segue into the title of inaugural emeritus director. His mandate and special projects include overseeing the 40th anniversary of the Sundance Institute in 2021.
Jackson heard she had got the job in December while staying with a friend in New York. "I can barely believe it but I can't stop beaming," she told Screen. Her appointment marks the end of a search led by Sundance Institute executive director Keri Putnam, who said there were close to 700 applicants encompassing those from within the Sundance fold, as well as candidates from film and the broader arts community in the US and around the world.
The new appointee will work closely with a senior team including director of programming Kim Yutani, and a focus of her new role will be to shape the non-profit Institute's slate of global public programming throughout the year – including Sundance Film Festivals in Hong Kong and London and a nationwide Short Film Tour – as well as leading the community of artists and audiences those programmes serve.
"Throughout it all Tabitha continued to rise to the top," said Putnam of the submissions and interview process. "I have worked with Tabitha for six years now and had always been impressed with her." Putnam referenced Jackson's leadership abilities across the institution, her taste, curiosity, openness and charisma as chief qualities, adding that her connection to Sundance's community of artists kept her "tethered to the core purpose of what we do."
Prior to joining the Institute in 2013, Jackson, an avowed champion of independent voices in cinema, served as executive producer on films produced by Film4 including Bart Layton's The Imposter, Mark Cousins' The Story Of Film, and Clio Barnard's The Arbor.
"My passion is for independent storytelling," Jackson told Screen. "My love [for it] came into sharper focus when I moved to New York in 2003 and was going to the Independent Film Center to watch movies on rainy afternoons. I saw Marshall Curry's Street Fight and it was warm and scrappy and fantastic and I was in the cinema watching this and thought this was the kind of thing I wanted to be in."
Recalling a conversation with Sundance co-founder Robert Redford in which he said he was looking for a commitment to independence and an embrace of change in the next appointee, she continued: "The landscape in which we operate is in incredible transformation and change and it's unstable in lots of ways that can be frightening to artists.
"But our commitment to independent voice and artists and getting that work to audiences is where I want to be. The task ahead is to understand the why of it all and making sure that what we do with this festival will continue to be resonant and relevant – it is already, and I want it to continue to be a glorious expression of community."
Jackson is a realist who happens to believe nothing beats the communal cinema-going experience, yet just like Cooper before her, she is platform-agnostic and keenly aware of the need to embrace new opportunities to serve content creators and audiences.
"Our role is not to anoint or appoint the particular forms of consumption," she said. "Not everybody has access to a festival and not everybody has access to a cinema. So if hundreds of millions of people can encounter work in 192 countries, that to me feels like a good thing. What we need to keep an eye on is making sure the truly independent work and the truly independent artists' voices are not being stifled or being self-censoring to meet the demands of the market, but are free to create the work they want to create and to expand the imagination of the market."
As the first Sundance Film Festival director who is female, non-American and a person of colour, Jackson said the festival would champion deserving, distinctive voices, and strive for "equity" and be transparent in service to that goal.
"It's about equity and also about the viability of the form," she said. "Its credibility is predicated on reflecting the world it's describing: if you only have a slither of the population making the work and a slither of the population being able to encounter the work, the map doesn't reflect the territory and it doesn't hold its worth."
While strict festival programming is something she will now get to do more of, the new director pointed to her collaborative approach and career as a curator through her work as a broadcasting commissioner and a rigorous assessor of documentaries as strong suits.
As Jackson looks to the future, she cited "irreverent and soulful and visionary and instinctive" Cooper as an inspiration. Putnam praised the outgoing director and incoming emeritus director for his passion and energy in 30 years of working at the Institute, adding: "We're living the festival today that Cooper imagined."
In a prepared statement Cooper said, "I've been grateful for Tabitha's collaboration over the years, and I'm a huge admirer of her approach to the work we do. As Bob has often reminded us, the only constant is change – and as the festival has evolved, the character of the community at its heart has remained consistent. Openness, genuine affection for each other and the work, and a shared spirit of generosity and independence are the foundation of our platform, and inform every aspect of the work we do. Tabitha's approach and vision are ambitious and fresh, and she embodies the best of what Sundance can be."
Yutani said in a statement, "With her longstanding commitment to authenticity and the artist's voice, Tabitha is thoughtful, bold and fearless – and her vision and approach can inspire and invigorate her team, encouraging them to unlock new ideas they might not have realised. In my years of working alongside her, she has never been afraid of challenging us to continually evolve our programmes to better serve art and artists, and I'm looking forward to collaborating with her and our whole team to create the festival of the future."