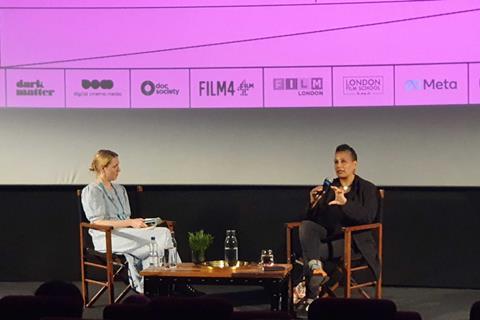 Following the surprise news of her departure this week, Tabitha Jackson has addressed her tenure as director of Sundance Film Festival, saying her pandemic-afflicted time was "a vertical learning curve" and "a series of experiments."
"The only way to get through that challenge was to think of it as a liberation to do anything we wanted [within realms] of public health, safety," said Jackson. "I like to think of Sundance as a place of imaginative possibility - let's put our money where our mouth is.
"I had to think of it as a series of experiments," she continued. "We're going to try some stuff and see what happens – that was the only way to do it."
The UK-born, US-based festival executive was speaking in conversation with Nicole Davis, host of the Best Girl Grip podcast, as part of the industry programme at Sundance London.
Responding to a question from Davis about her biggest learning curve in her career, Jackson immediately cited her two years as director, calling it "a vertical learning curve"
The director will leave her role following this weekend's Sundance London Film Festival - her first and only in-person Sundance festival as director. She did not detail the reasons for her departure, nor her next steps.
Jackson did say she was reluctant to take on the role, which she started in 2020.
"I didn't want to leave the creative process; I was very reluctant," said Jackson."Sundance is an incredible festival, world-class; it's a complex organism, it requires an incredible balance of the work, people, values, revenue, sustainability, safety, transportation. And it's like - I just want to do the nice soft squishy bit there."
Sundance director of programming Kim Yutani, who will join the Institute's senior leadership team and work with CEO Joana Vicente on the 2023 edition, was present in the audience at Jackson's session.
As well as touching on her departure from the role, Jackson discussed her career as a filmmaker, commissioner and festival programmer.
She joined the Sundance Institute in 2013 as director of the documentary film program, having been head of arts and performance at Channel 4 Television in the UK.
Sundance London opens today, and continues until Sunday June 12.