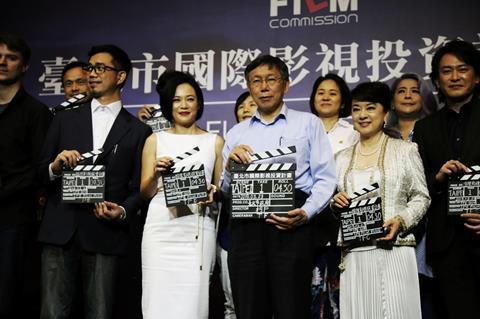 The Taipei Film Commission (TFC) has announced the first five projects to receive funding from its new initiative, the Taipei Film Fund, with the initial beneficiaries involving production teams from the Netherlands, France, Singapore, Austria and Hong Kong.
Launched by Taipei City's Department of Cultural Affairs, the fund has an annual budget of around $1m (NT$30m) to invest in international film and TV co-productions with Taiwan, with the aim of attracting more international talent to Taipei.
HBO Asia's Dream Raider, an eight-part sci-fi series recently announced at Hong Kong Filmart, is the biggest beneficiary of the initial funding round with an investment of $324,000. Starring Taiwan's Vivian Hsu and David Wang, the series is directed by Daniel Fu and Simon Hung and brings together talent from China, Hong Kong and Taiwan.
Singapore filmmaker Anthony Chen's Wet Season, starring Yeo Yan Yan, has secured funding of $146,000. Produced by Singapore's Giraffe Pictures and China's Rediance and New Century Influence, the film shot in Singapore rather than Taipei, but has completed some post-production in the Taiwanese capital.
Also receiving funding from thre Taipei Film Fund are Maisy Tsai's Have A Nice Trip ($211,000), David Verbeek's High Time ($162,000) and Chen Bo Yilin's Moneyboys ($130,000).
Starring Taiwanese actress Judy Ongg, Have A Nice Trip is a Taiwan-Hong Kong-Singapore co-production involving producers Chiu Li-Kwan, Jeffrey Chan and Stanley Kwan. Based on a true story, the film is expected to start shooting in Taiwan and Hokkaido, Japan by the end of the year.
Scheduled to start shooting in early April, High Time is a co-production between the Netherlands' Lemming Film and Taiwan's House On Fire. Dutch director Verbeek's credits include R U There (2010), which premiered in Cannes Un Certain Regard, and An Impossibly Small Object (2018), which played in Rotterdam.
Moneyboys is a co-production between Taiwan's Flash Forward Entertainment, France's Zorba Productions and Austria's KGP Kranzelbinder Gabriele Produktion. The film also has backing from the Austrian National Film Fund, Arte and the CNC's Cinema du Monde.
The new fund was launched in Taipei today at an event attended by Taipei Mayor Ko Wen-Je, actresses Yeo, Ongg and Aviis Zhong and actor David Wang. Ko said that the five projects are estimated to be bringing around 2,800 job opportunities to local industries and that the fund will generate side benefits and tourism revenue of an estimated $65m (NT$2bn) over five years.