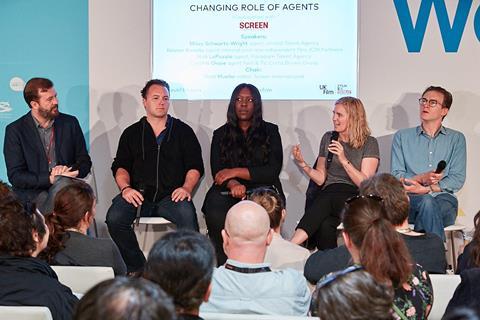 Matt Mueller (Screen International); Nick LoPiccolo (Paradigm); Cynthia Okoye (Curtis Brown); Kristen Konvitz (ICM); Mikey Schwartz-Wright (UTA)
Four talent agents, three LA-based and one from London, were in Cannes for a UK Film Centre panel on Sunday (May 13) to discuss the evolving roles agents play, how to create distinctive projects, and the influence of diversity drives on the business.
The enhanced nature of the role of agents in the film business has been well documented, and the panel spelled out the creative nature of forming packages for their clients, working across the entire value chain from producers, casting and finance to sales and distribution.
"I think of ourselves as in-house producers with none of the credit. We help get a film to fruition through any way necessary," commented Kristen Konvitz from ICM Partners. "You have to be creative when putting your movie together and think about where the best home is for it. We're always thinking about new ways [to get films made]: bitcoin, cryptocurrency, we have to think outside of the box to get outside of the box movies financed."
Mikey Schwartz-Wright from United Talent Agency described his role as "putting together the game plan" for a film while Konvitz called agents the "connective tissue" between talent and the rest of the film ecosystem.
Nick LoPiccolo from Paradigm Talent Agency advocated for agents thinking outside of traditional models, "For some of the more important clients at our agencies it's important to think outside of the studio system, to give them ownership and some more creative control of the projects that they have."
He added that those types of packaging projects internally leads to more "ownership in the revenue structure" and "creative control".
For Cynthia Okoye, London-based agent at Curtis Brown Group, talked up an agent's ability to "facilitate the entire journey". "We don't take the role of producer but we go beyond pairing talent and producers, it's more than just doing the deal, doing the contract, it's introducing to sales, distributors, guiding that process."
Standing out from the crowd
Discussing the types of projects that agents are packaging, Schwartz-Wright said that cast-driven movies put together for the international sales marketplace were "more challenged" because releasing movie theatrically "has become harder".
Rather than relying on tried-and-tested formulas, agents are instead looking to put together more "distinct pieces of work that stand out in the marketplace," he continued. "Six to seven years ago, Moonlight, with its distinct, diverse story, probably doesn't get made."
"Moonlight wasn't an obvious thing at the time it was casting. Barry Jenkins hadn't made a movie for a number of years and a number of actors passed on the material because they were scared of it," added LoPiccolo, "I think all of them would probably regret that now. They didn't want to take a chance on a low budget film and it won the Oscar."
Appetite Diversity
The panel also noted the impact of initiatives such as #MeToo and Time's Up, and wider efforts to make the film industry more diverse, on their work.
Okoye explained that she has found that she is "constantly getting calls from producers asking me to send them a list of all my BAME writers and directors. I think it's a bit weird listing all my non-white filmmakers, but you see that intention".
"There's still a long way to go but they're specifically targeting [those filmmakers]," she continued. "In the UK, schemes like Bafta Elevate are brilliant to highlight female directors [next year it will showcase writers] and tell producers to hire them."
Konvitz noted the direct impact on the internal workings of ICM: "There's been a decree in our company to go 50-50 by 2020. That's 50% women across the company, board and partnerships. That's a change in internal politics, a lot of people have stereotypes of how agencies operate and a lot of that has now shifted.
Schwartz-Wright has also noted a change at his company. "An assistant at our company, just because he was curious, made a studio-by-studio breakdown of percentages of male and female workers. It was super interesting to look at and a symbol of the time that we live in, that someone took the time to do that. It's such an important conversation."