Alexander Rodnyansky is presenting his latest feature The Duelist in IMAX at Black Nights Film Festival.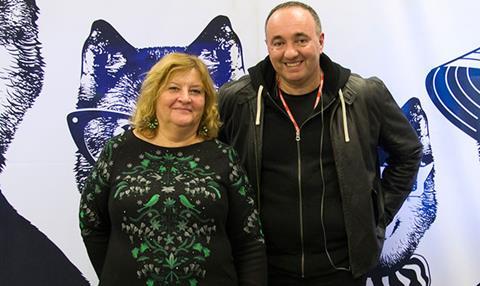 Alexander Rodnyansky [pictured with Tallinn Black Nights director Tiina Lokk] has established himself as one of the biggest names in the Russian film industry having produced 2013 war epic Stalingrad, which set a record as the highest-grossing local film in Russia, taking $52m, and Oscar-nominated festival favourite Leviathan.
He has produced several English-language films including Robert Rodriguez's Machete Kills and Sin City: A Dame To Kill For and Billy Bob Thornton's Jayne Mansfield's Car, and was a co-producer on Tom Tykwer and the Wachowski's Cloud Atlas.
At Tallinn Black Nights this year he presented historical epic The Duelist, which stars Petr Fedorov in the story of as a deadly gun-for-hire, playing at the festival following its premiere in Toronto.
Screen sat down with Rodnyansky to discuss The Duelist, generating success in the international market, Donald Trump's relationship with Vladimir Putin, and the continued incarceration of Ukrainian film-maker Oleg Sentsov.
The Duelist plays here in Tallinn in IMAX. Stalingrad was also a big IMAX release. Why is large-format cinema a big part of your work?
A major challenge of contemporary cinema is that people feel much more comfortable watching movies at home on TV, iPads, or smart phones. You need to offer them a visually stunning experience to get them to go to the theatre.
I believe IMAX is a tool to make viewers feel closer to the events on screen, the technical evolution of the cinema is the thing that stops people from staying at home to watch movies.
Stalingrad was a big hit in China, do you put that down to it being released in IMAX?
China is completely driven by young audience preferences, that's why they prefer spectacles to dramas and IMAX gives them another reason to see the movie.
We also expect The Duelist to be widely distributed in China, on a few thousand screens. It's not an obvious choice for IMAX but it helps you attract those young audiences.
In recent years you've worked in both the Russian and international film industries. Is that balance challenging?
Yes, it has been a difficult balance for me. I'm always searching for a model that will allow me to do the movies I love, high-end quality movies. They are my passion, but as a producer I'm looking for an opportunity to make them work commercially.
My next step is going to be English-language movies but made in my part of the world. I want to use ideas generated here but to make them in a way that allows them to cross global borders.
You were born in the Ukraine [then part of the Soviet Union]. Do you enjoy tackling political themes in your movies?
I am not so political, the only commitment you have when making movies is being honest. I was born in the Soviet Union and was already an adult when it broke up. For me, Ukraine and contemporary Russia are both parts of the country where I was born. Young people don't consider the fact that more senior people think of them as the remnants of one country.
I don't want to be simplistic, I try to see the situation in a more multi-dimensional way than it is presented in Russian or international media. I see the corrupted state of Ukraine and the corrupted state of Russia and they're sick with the same sickness. The only way to get rid of it is to cure the one sickness for both countries.
For me, the film industry is about uniting people, to make them understand the logic of each other, to see the similarities in their lives, their similar challenges. I would never do a movie that would encourage the intensity of the conflicts.
The ongoing incarceration of Ukrainian director Oleg Sentsov has proven a major talking point in the industry and beyond with your Leviathondirector Andrey Zvyagintsev among those to speak out. How do you feel about it?
I know Oleg Sentsov. I've met him a few times. He's one of many hostages of this situation. Unfortunately he has become one really well known hostage, that's why he's a victim of the political gambling between the two sides.
He's an interesting guy who became a film-maker by himself, no education. He's become one of the playing cards. As more people ask for him to be free, the people who keep him in prison think they should get something in exchange for him.
Do you have any fears around the election of Donald Trump in the US and his ties to Putin?
At the moment no one knows what's going to happen. I personally have a lot of doubts that Trump's election activity will marry up with what he's going to do as a president in action. I don't see much opportunity for Putin and Trump to get along well enough to scare people. Everyone in Russia hopes for the improvement of the relations between Russia and the US and that's not a bad idea.
In your early career you dabbled in directing, any interest in returning to that?
I am playing with the idea of making a documentary dealing with the subjects of the region that I come from, but not at this time.
What projects are you working on now?
The new film from Leviathan director Andrey Zvyagintsev, Loveless, is three-quarters done. It should be completed by April. Then, I am producing another project set in 19th century St Petersburg. It's about a serial killer and is going to be filmed in the English-language with an international cast.
I am also working on a six-part international TV series about the assassination of Leon Trotsky, based on testimonies from actual KGB officers. It will have an international director and will be in several language including English, Spanish, Russia and French.