Speakers included Russian producer Alexander Rodnyansky, American producer John D. Heinsen, and cinematographer John Mathieson.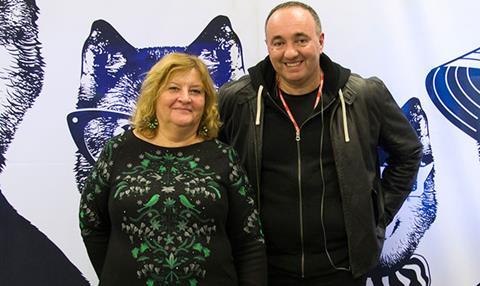 A focus on Russian cinema was the main event at this year's European Genre Forum, held at the Tallinn Black Nights Film Festival (Nov 11-27).
Producer Alexander Rodnyansky – whose credits include Fedor Bondarchuk's war epic Stalingrad, Andrey Zvyagintsev's Oscar-nominated Leviathan, and Robert Rodriguez's Machete Kills – gave a talk about the state of Russian cinema, moderated by Black Nights festival director Tiina Lokk.
Rodnyansky [pictured top with Tiina Lokk] is at the festival with The Duelist, which premiered at this year's Toronto International Film Festival, a historical epic starring Petr Fedorov as a deadly gun-for-hire.
"Since 2000 Russian cinema got back the ambition to produce genre movies," he said.
"Russian genre cinema has the potential to come up with really ambitious projects and to recoup investments in a single language territory [in Russia]."
He explained that he had focussed his career on "high quality movies" and had not always seen genre films as a viable career path, but had since shifted his perspective. "I started to think about how to come with up genre films that would combine an auteur approach with elements of contemporary cinema; visually attractive films that fit to the demands of the audience."
He preferred to think of his work as 'elevated genre', with his films combining elements of genre with traditionally highly-regarded fare such as period drama, in the case of The Duelist.
Conversation then shifted to the challenges facing Russian film production, with Rodnyansky bemoaning the difficulties of accessing government funding. "A major financing source for Russian films is the state, and that's bad news," he said.
"With the state you depend on what movies they want to do," he explained, "There is no strict censorship, but they have their patriotic bullshit and that's why they finance some stuff that is not from very talented people."
Rodnyansky also warned that despite a willingness to produce Russian genre cinema in the country, accessing audiences represented a challenge.
"Local cinema is shrinking in Russia," he said, suggesting that American releases currently dominate domestic programming schedules, and that with no quotas in place, Russian films rarely found room to compete.
He also suggested that online streaming services were yet to offer much of a platform in the country, and that television had few ties to film because of the wealth of short form content.
"At the moment I am very much targeting co-productions," he added. "For genre movies the only way to make them is to become more global. It's a matter of survival."
Anna Strunevskaya of production and distribution outfit Art Pictures Media was also present to show a clip from the company's new film Ice (Lyod), about a figure skater who suffers an unfortunate accident. The film is helmed by debut director Oleg Trofim and is at the festival as a work-in-progress. Stalingrad director Fedor Bondarchuk is a producer on the project.
In a brief panel moderated by Black Nights' head of industry Sten-Kristian Saluveer, Strunevskaya spoke about why Russian films have tended not to travel well into international markets.
"Not a lot of companies and producers work in an international way. They don't try to shoot something that is international," she said, adding that this will need to change as appealing to domestic Russian audiences is a challenge.
"Russian audiences have very specific tastes, it creates a problem at the Russian box office."
John D. Heinsen panel
In Tallinn to deliver his annual festival lecture on transmedia, LA-based John D. Heinsen, CEO of Bunnygraph Entertainment, offered advice to attendees at this year's genre forum on how to use various media to promote films.
Heinsen suggested that film-makers need to always have audiences in mind. "Figure out where your audience lives in the digital space" he said, adding that producers should "do it before principal photography" and should be considering marketability throughout the development process.
He also emphasised the importance of identifying influencers who can generate interest in film projects.
"There are power bloggers all over the world, these are people you want to build relationships with, you want to sneak them content, things like that, this is how you build your audience. The key thing you want to do is never start flat-footed in digital, don't just build a website and hope people will show up," he suggested.
He also went on to talk about virtual reality, one of the buzziest subjects of 2016.
Swimming against the tide, Heinsen stated that "VR is not going to be around as long as we think", drawing comparisons with the boom and subsequent cooling of 3D cinema.
He predicted that alternative cinema experiences would replace VR, using the example of the Fullldome technology, which encloses viewers in an immersive capsule.