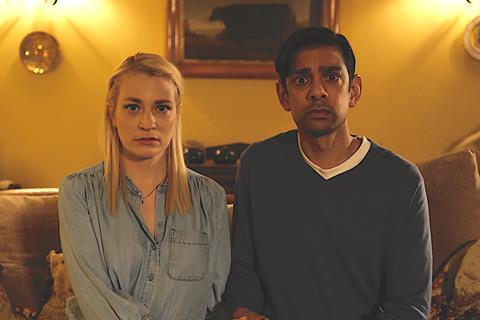 Estonia's Tallinn Black Nights Film Festival (November 11-27) has unveiled its first feature line-up which includes 10 world and 10 international premieres.
Scroll down for full line-up
Among the world premieres are Italian director Ivan Gergolet's debut fiction feature The Man Without Guilt, a Slovenia-Italy-Croatia co-production that received €140,000 in Eurimages funding last year. Gergolet's documentary feature Dancing With Maria screened at Venice's Critics' Week in 2014 and was nominated for a European Film Award.
Also premiering is Fisnik Maxville's The Land Within, about the exhumation of a mass Balkan grave. The Kosovo-born, Swiss-based writer-director has previously directed feature docs including Nostromo, a 2021 Vision du Reel prize winner.
Lithuanian director Titas Laucius returns to Tallinn a year after winning one of the festival's work-in-progress awards with Parade, which follows a divorced couple whose attempts to get their relationship properly dissolved by the Catholic church ends up bringing them closer together.
The line-up also includes Bruno Carboni's The Accident about a progressive who seeks to understand the world better after she's hit by a conservative in a car while on her bike. The Brazilian film was pitched at TorinoFilmLab in 2020.
Neil Maskell's Klokkenluider is one of the international premieres in the strand. The UK actor's directorial debut had its world premiere at BFI London Film and stars Jenna Coleman, Tom Burke and Amit Shah in a comedy-thriller about a whistle-blower and his wife travelling to a remote house in Belgium with two protection officers.
The full programme for the 26th edition of Tallinn will be announced at the beginning of November.
First Features - In Competition
*World premiere
Amar Colony (India)*
Dir. Siddharth Chauhan
The Unbalanced (Czech-Slovakia)*
Dir. Zuzana Piussi
Pelican (Cro)*
Dir. Filip Heraković
The Accident (Bra)*
Dir. Bruno Carboni
The Land Within (Switz-Kosovo)*
Dir. Fisnik Maxville
The Man Without Guilt (Ita-Slo-Cro)*
Dir. Ivan Gergolet
Parade (Lithuania)*
Dir. Titas Laucius
Upon Entry (Spa)*
Dirs. Juan Sebastián Vázquez, Alejandro Rojo
The Other Widow (Israel-Fra)*
Dir. Maayan Rypp
Amusia (It)*
Dir. Marescotti Ruspoli
Klokkenluider (UK)
Dir. Neil Maskell
The Hatcher (Pol)
Dir. Grzegorz Molda
Punch (NZ)
Dir. Welby Ings
Everybody Wants to Be Loved (Ger)
Dir. Katharina Woll
Double Life (Jap)
Dir. Enen Yo
Until Branches Bend (Can-Switz)
Dir. Sophie Jarvis
The Other Child (S. Korea)
Dir. Kim Jing-young-IV
Storm (Nor)
Dir. Erika Calmeyer
First Features - Out of Competition:
Phi 1.618 (Bul-Can)
Dir. Theodore Ushev
Barren (Israel)
Dir. Mordechai Va