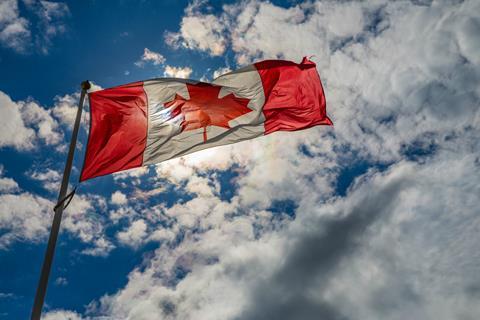 JUNE 19 UPDATE: One year after Telefilm Canada announced its drive to achieve gender parity in feature production funding by 2020, the support body has highlighted an ongoing gender gap on higher budget films.
According to research unveiled at the onset of the 151st Eurimages management board meeting that kicked off this week in Montreal, 44% of 124 films in Telefilm Canada's fiscal year from April 1 2017-March 31 2018 had a female director, 48% had female producers, and 46% had female screenwriters.
However Telefilm Canada raised concerns when the overall category was divided into features budgeted below CAD $2.5m and those budgeted above that level.
While the proportion of females in key production roles in the former category (57 films) broke down to 42% directors, 47% producers, and 40% screenwriters, the share in the higher budget bracket (34) slipped to 29%, 44%, and 32%.
"These results are encouraging and positive change is happening, however, the greatest challenge lies with bigger-budget films, where there is a significant gap" Telefilm Canada acting executive director Jean-Claude Mahé said.
"We need the industry's collaboration to increase the number of projects led by women in this budget realm.
"That's why, last year we allocated additional funds for women-driven projects in development, increased our promotional efforts and we are now reviewing new incentives aimed at ensuring that more women-led projects budgeted at over $2.5 million enter the pipeline this year."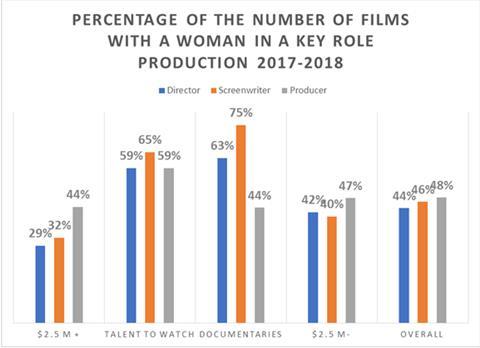 Mahé continued, "Having the members of Eurimages gathered in Montréal presents an ideal opportunity to get this message out, given that we have similar goals and that coproduction is an important factor in the big-budget film category."
The proportion of women directors and screenwriters climbed sharply on documentaries (16) to 63% directors and 75% screenwriters, while the representation of producers dropped to 44% (see Chart 1). In the micro-budget Talent To Watch programme (17), women accounted for 59% directors and producers, and 65% screenwriters.
There was a similar drop-off when budgets rose above CAD $2.5m for the percentage of dollars invested with a woman in a key production role for the same period. Total investment amounted to CAD $73.1m and female producers overall accounted for 36%, directors 25%, and screenwriters 29%.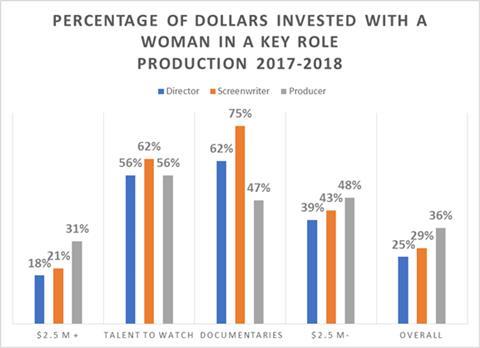 When examined on projects below the CAD $2.5m threshold (totalling CAD $17.4m), the numbers climbed to 48%, 39%, and 43%, compared to 31%, 18%, and 21% for features budgeted higher than CAD $2.5m (CAD $17.4m).
In 2017 Canada became the 38th member country of Eurimages and its first non-European member.