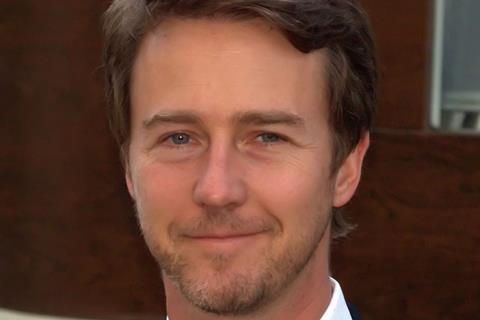 Residents at the building where a fatal fire broke out on the set of Motherless Brooklyn are suing Edward Norton's production company.
Erica and George Cruz filed a multi-million dollar suit on Tuesday (March 22) against Class 5 Films and Vincent Sollazzo, the owner of the five-storey townhouse in the Sugar Hill area of Harlem where the blaze occurred last Thursday.
In papers lodged at the supreme court of the state of New York county of New York, the plaintiffs say their fourth floor apartment was completely destroyed by a fire that broke out in the basement as a result of what they allege to be the defendants' recklessness, carelessness and negligence.
They further claim that after Class 5 representatives had been notified of the blaze, they did not warn tenants in the building, and misled them that a fire had been extinguished.
Production on Motherless Brooklyn has resumed after it was originally suspended last week. The funeral of 37-year-old firefighter Michael Davidson, who died in hospital after he was found unconscious after he entered the five-storey townhouse in the Sugar Hill suburb and attempted to tackle the fire, took place on Tuesday.
A spokesperon declined to comment on behalf of Class 5 Films and said she had not seen the complaint.
Norton, who directs, stars in and adapted the Motherless Brooklyn screenplay from Jonathan Lethem's acclaimed 1950s-set noir about a private detective with Tourette's Syndrome, has expressed his shock.
"We watched firsthand with astonishment," he said in a statement, "as they charged into the smoke to make sure all were safely out and then fought to contain the blaze and prevent it from spreading, putting their lives on the line as they do every day."
Bruce Willis, Willem Dafoe, Gugu Mbatha-Raw, Bobby Cannavale, and Alec Baldwin star in the film. Norton produces alongside Gigi Pritzker, Rachel Shane, and Bill Migliore.