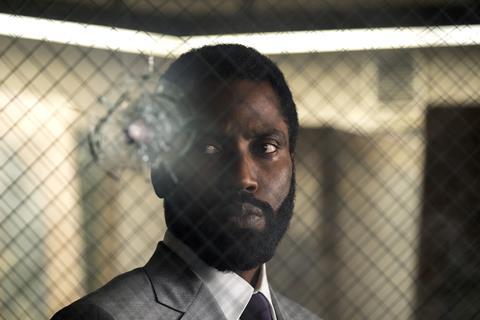 Tenet earned an estimated $6.7m in its second session in North America to reach $29.5m in what remains a significantly compromised US exhibition landscape where most markets in Los Angeles, New York and San Francisco remain closed.
Tenet fell 29% and screened in 2,910 locations in the US and Canada. Orange County south of Los Angeles came back online last week and cinema-going in the area ensured AMC Orange was the top individual site for Tenet in the US over the weekend.
That resulted in Los Angeles (Orange County) ranking as the film's number one DMA market, followed by Dallas, Chicago, Salt Lake City, Phoenix, Toronto, Greater New York (New Jersey and Connecticut), Houston, Atlanta, and San Diego.
John David Washington, Robert Pattinson, Elizabeth Debicki, Kenneth Branagh, Michael Caine, and Aaron Taylor-Johnson star in Christopher Nolan's thriller.
Sony Pictures released TriStar Pictures and Stage 6 Films' rom-com The Broken Hearts Gallery, which like Tenet has experienced multiple delays, opened at the weekend on $1.125m.
It earned $422,000 on Friday, $433,000 on Saturday, and is projected to take $270K on Sunday from 2,204 locations. Sony plans a slow roll-out as major markets come back online. Miami is understood to be opening on Monday.
Natalie Krinsky's directorial debut stars Geraldine Viswanathan as a young art gallery assistant in New York who inspires romantics everywhere when she sets up a pop-up space filled with souvenirs from her former relationships. Selena Gomez served as executive producer. Dacre Montgomery also stars.
Solstice Studios' road rage thriller Unhinged starring Russell Crowe added $1.5m in its third session to reach a $13.8m running total from North America.