Fortissimo locks UK deal with Metrodome for Toronto title; BBC boards TV rights.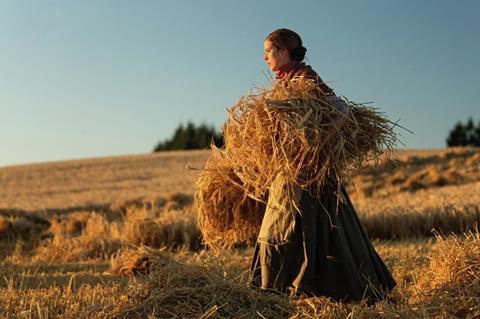 Fortissimo has secured a deal with Metrodome for UK and Irish rights to Terence Davies' anticipated drama, Sunset Song, ahead of the film's world premiere at the Toronto International Film Festival next month.
Metrodome has all rights excluding TV – which belong to BBC – and will release in Q4, 2015.
Agyness Deyn (Pusher), Peter Mullan (Tyrannosaur) and Kevin Guthrie (The Legend of Barney Thomson), star in the early 1900s coming-of-age story in which the daughter of a Scottish farmer draws strength from the land in order to cope with her harsh reality.
Based on the novel by Scottish writer Lewis Grassic Gibbon, the film will also feature in competition at the San Sebastian Film Festival.
The deal was negotiated between Fortissimo Films' Nicole Mackey, evp of international sales, and Metrodome's head of acquisitions Giles Edwards and MD Jezz Vernon.
Sunset Song marks the first film by Davies since 2011 drama The Deep Blue Sea.
Edwards said: "Terence Davies has excelled even his redoubtable self with this remarkably performed, boldly realised and exquisitely poignant adaptation of one of these Isle's most sacred texts.
"To enrapture audiences by bringing such a vivid and evocative story to cinemas is an honour; to be doing so in concert with the UK's greatest living filmmaker is a rare privilege."
Mackey added: "Metrodome's boundless enthusiasm for this film reassures us that it couldn't be in better hands. We are all fortunate to be working on Sunset Song, especially at a time when Scottish pride and identity is so strong."
The UK/Luxembourg co-production is presented by the BFI Film Fund, Film Fund Luxembourg, Creative Scotland and BBC Scotland.
Producers are Hurricane Films' Roy Boulter and Sol Papadopoulos, Iris Productions' Nicolas Steil and it is executive produced by SellOutPictures' Bob Last.