Hundreds of films and TV shows will be available to watch for free online from today in the UK, with content specifically tailored to family and kids.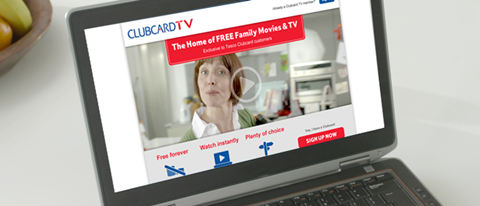 Tesco has launched Clubcard TV, its own online movie and TV service, and become the first retailer in the UK to do so.
With content specifically tailored to family and kids, hundreds of films and TV shows will be available to watch for free online, with deals in place with the likes of Warner Bros, Endemol and Aardman. Among the content available from launch is The Assassination of Jesse James by the Coward Robert Ford, The Shawshank Redemption and TV show The Only Way is Essex.
Michael Comish, CEO of Tesco Digital Entertainment, said: "The reason we can offer great programming for free is because customers will see relevant advertising before and during the movie or TV show they are watching. We'll use Clubcard data to tell us what might be relevant for our customers and therefore help us deliver a more personalised service."
"Tesco has stepped up and made a financial commitment enabling them to license a selection of films for an exclusive short window sequenced between the traditional free TV windows. We are very pleased to have a new player in the competitive advertiser supported programming space," added Jeffrey R. Schlesinger, president, Warner Bros. International Television Distribution.
Clubcard TV has developed by the team behind the Tesco film and TV service blinkbox, with plans to extend the service to a range of devices including games consoles, tablets, Smart TVs, Blu-ray players and set top boxes.
On Monday, Tesco named the MDs for its three new digital entertainment services, confirmed as blinkboxmusic, blinkboxbooks and Clubcard TV.
Former blinkbox director of advertising and sponsorship Scott Deutrom has been appointed MD of Clubcard TV.
Gavin Sathianathan joins from Facebook as managing director of blinkboxbooks, the eBooks service being developed following the acquisition of Mobcast in September 2012.
Mark Bennett will join from Sainsbury's to lead blinkboxmusic, a music service to be rolled out following the acquisition of WE7 in June 2012. Both are expected to launch later in the year.
The new digital entertainment services, which complement the existing movie and TV streaming offering acquired by Tesco in 2011, will exist as separate entities united under the blinkbox brand.