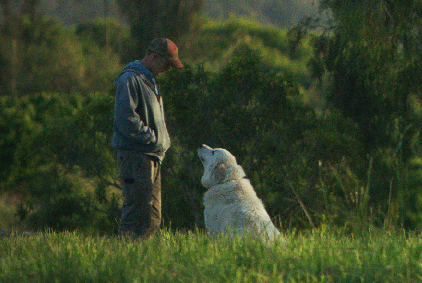 John Chester's The Biggest Little Farm will open DOC NYC on November 8 following a strong reception at the recent world premiere in Telluride and the Canadian premiere in TIFF.
Neon acquired US rights in Toronto to the film about Chester and his wife as they create a sustainable family farm in California, and will be release next spring.
The festival has also announced its 2018 DOC NYC Short List: Features and Short List: Short Films selections.
The Features selection is in its seventh year, and includes 15 entries, while the Short Films selection is in its inaugural year and includes 12.
"Since 2012, the DOC NYC Short List for features has been wonderful for drawing attention to the breadth and depth of the year's most exceptional nonfiction filmmaking," said the festival's artistic director Thom Powers. "This year we're excited to expand our spotlight to include great short films too."
Each of the DOC NYC Short List titles will screen during the festival, with the director or another special guest present for the primary presentation. Many the Short List directors will be participating in the DOC NYC Short List Day of Conversations on November 9.
The 'Getting Personal', 'Breaking Boundaries', and 'Getting Political' panels are co-presented by MTV, while the 'Portraits' panel and the Happy Hour are co-presented by Focus Features.
This year's Short List feature selections include seven titles directed by women. The full list includes Stephen Maing's Crime + Punishment, Michael Moore's Fahrenheit 11/9, Elizabeth Chai Vasarhelyi and Jimmy Chin's Free Solo, RaMell Ross's Hale County This Morning, This Evening, Susan Lacy's Jane Fonda: A Life In Five Acts, Bing Liu's Minding The Gap, Alexandria Bombach's On Her Shoulders, Wim Wenders' Pope Francis: A Man Of His Word, Rashida Jones and Alan Hicks' Quincy, Betsy West and Julie Cohen's RBG, Annie Sundberg and Ricki Stern's Reversing Roe, Rudy Valdez's The Sentence, Sandi Tan's Shirkers, Tim Wardle's Three Identical Strangers, and Morgan Neville's Won't You Be My Neighbour?
The full roster of titles selected for the short list includes Gordon Quinn's '63 Boycott, Emmanuel Vaughan-Lee's Earthrise, Rob Epstein and Jeffrey Friedman's End Game, Vanessa Roth's The Girl And The Picture, Marc Serpa Francoeur's The Head & The Hand, Kim A. Snyder's Lessons From A School Shooting: Notes From Dunblane, Charlie Tyrell's My Dead Dad's Porno Tapes, Cathy Chermol Schrijver's RX Early Detection: A Cancer Journey With Sandra Lee, Galen Summer's Sidelined, Kristi Jacobson and Roger Ross Williams' Take Back The Harbour, Sareen Hairabedian's We Are Not Done Yet, and Floyd Russ' Zion.
The festival runs from November 8-15.