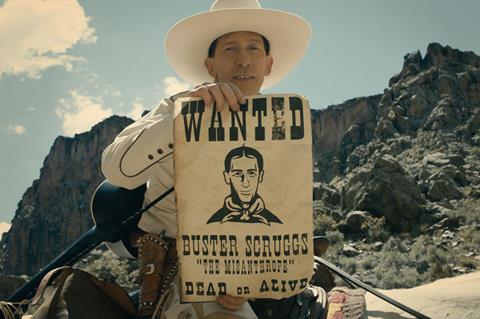 The Ballad Of Buster Scruggs, the Netflix project from writer-directors Joel and Ethan Coen, has changed format from an anthology series to a film, and will have its world premiere in competition at Venice Film Festival (August 29 – September 8).
It was announced last year as a Netflix original series featuring six stories about life on the American frontier. The six-chapter anthology structure will remain, but it is now categorised as a feature film, Netflix have confirmed to Screen.
The Coens released a tongue-in cheek statement about the project: "We've always loved anthology movies, especially those films made in Italy in the Sixties which set side-by-side the work of different directors on a common theme. Having written an anthology of Western stories we attempted to do the same, hoping to enlist the best directors working today. It was our great fortune that they both agreed to participate. - Joel and Ethan Coen"
The Ballad Of Buster Scruggs will star previous Coen Brothers collaborator Tim Blake Nelson (O Brother, Where Art Thou?) in the eponymous role, with further cast including Liam Neeson, Tom Waits and Zoe Kazan.
Shot by Bruno Delbonnel on the Arri Alexa camera, the film will be the first digital production for the directors.
The Venice 2018 programme includes several titles that look set to feature in awards season, including the world premiere of Damien Chazelle's First Man as festival opener; Bradley Cooper's directorial debut A Star Is Born starring Cooper alongside Lady Gaga; and Mike Leigh's historical drama Peterloo about the massacre of a peaceful political rally in Manchester, UK in 1819.
Also screening at the festival is Luca Guadagnino's Suspiria remake starring Dakota Johnson; Yorgos Lanthimos' The Favourite with Olivia Colman and Emma Stone; Paul Greengrass' 22 July telling the story of the Utoya terrorist attack; and Jennifer Kent's The Nightingale, her first film since 2014's The Babadook.