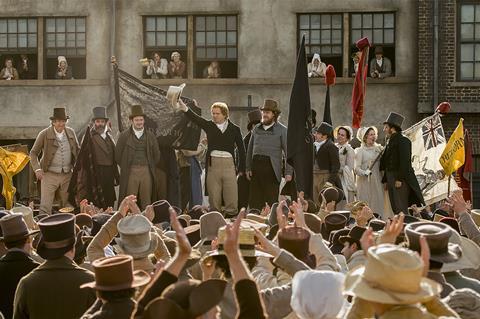 The line-up of the 75th Venice Film Festival (August 29 – September 8) has been revealed.
This year features a host of big name directors, a strong showing from the streaming giants… but few female filmmakers.
Scroll down for the full line-up
Jennifer Kent (The Babadook) is the only woman director in the 20-strong competition strand with gothic thriller The Nightingale, starring Sam Claflin.
As expected, several titles that were once tipped for Cannes will now debut at the Biennale.
Among them are Alfonso Cuaron's Mexican drama ROMA and Orson Welles' restored final film The Other Side Of The Wind (debuting as a special event), both denied a spot at the French festival because of the Netflix/Cannes spat.
Mike Leigh's Amazon-backed Peterloo, a surprising Cannes omission, is also in competition and will give the director a chance to win another Golden Lion (he won for Vera Drake in 2004).
The streaming giants are well represented this year. Besides Peterloo, Amazon also have Luca Guadagnino's hotly anticipated Suspiria remake, starring Dakota Johnson, Tilda Swinton, Mia Goth in competition.
Other Netflix titles in the line-up (they have six in total) include Paul Greengrass' Norway terror attack drama July 22 and the Coen brothers' western anthology The Ballad Of Buster Scruggs, formerly a series but now a feature film, the directors revealed today.
The other competition title with UK involvement is Yorgos Lanthimos' buzzy period comedy The Favourite, from Element Pictures and Film4 and distributed by Fox Searchlight.
The best represented nations in competition are the United States and France, with eight projects apiece according to the festival. 21 films in the line-up as a whole have French involvement.
Palme d'Or winner Jacques Audiard's first English-language film The Sisters Brothers will add star power to Venice. The dark comedy western stars Joaquin Phoenix, Jake Gyllenhaal and Riz Ahmed.
Other big-name directors announced include László Nemes, following up his critically acclaimed Son Of Saul with pre-WW1 Budapest-set Napszallta (Sunset), and Zhang Yimou's period martial arts title Shadow, screening out of competition.
Finally, Venice will debut the first two episodes of HBO's My Brilliant Friend, based on the bestselling books by Elena Ferrante, as a special screening.
As previously announced, Damien Chazelle's First Man will open the festival in competition. Bradley Cooper's directorial debut A Star Is Born will also have its world premiere out-of-competition at the event.
Competition
First Man (US), dir. Damien Chazelle
The Mountain (US) dir. Rick Alverson
Doubles Vies (France) dir. Olivier Assayas
The Sisters Brothers (France, Belgium, Romania, Spain) dir. Jacques Audiard
The Ballad Of Buster Scruggs (US) dir. Ethan, Joel Coen
ROMA (Mexico) dir. Alfonso Cuaron
Vox Lux (US) dir. Brady Corbet
Suspiria (Italy) dir. Luca Guadagnino
The Nightingale (Australia) dir. Jennifer Kent
The Favourite (US, UK, Ireland) dir. Yorgos Lanthimos
Peterloo (UK, USA) dir. Mike Leigh
Capri-Revolution (Italy, France) dir. Mario Martone
What You Gonna Do When The World's On Fire? (Italy, USA, France) dir. Roberto Minervini
Napszallta (Sunset) (Hungary, France) dir. Laszlo Nemes
Nuestro Tiempo (Mexico, France, Germany, Denmark, Sweden) dir. Carlos Reygadas
At Eternity's Gate (USA, France) dir. Julian Schnabel
Acusada (Argentina, Mexico) dir. Gonzalo Tobal
Zan (Killing) (Japan) dir. Shinya Tsukamoto
22 July (Norway, Iceland) dir. Paul Greengrass
Werk Ohne Autor (Germany) dir. Florian Henckel von Donnersmarck
Frères Ennemis (France, Belgium) dir. David Oelhoffen
Out of Competition (fiction)
A Star Is Born (USA) dir. Bradley Cooper
Una Storia Senza Nome (Italy) dir. Roberto Anno
Les Estivants (France, Italy) dir. Valeria Bruni Tedeschi
Mi Obra Maestra (Argentina, Spain) dir. Gaston Duprat
A Tramway In Jerusalem (Isreal, France) dir. Amos Gitai
Un Peuple Et Son Roi (France, Belgium) dir. Pierre Schoeller
La Quietud (Argentina) dir. Pablo Trapero
Dragged Across Concrete (Canada, USA) dir. S. Craig Zahler
Ying (Shadow) (China) dir. Zhang Yimou
Out of Competition (non-fiction)
Carmine Street Guitars (Canada) dir. Ron Mann
Process dir. (Netherlands) Sergei Loznitsa
El Pepe, Una Vida Suprema (Argentina, Uruguay, Serbia) dir. Emir Kusturica
Aquarela (UK, Germany) dir. Victor Kossakovsky
A Letter To A Friend In Gaza (Isreal) dir. Amos Gitai
Isis, Tomorrow. The Lost Souls Of Mosul. (Italy, Germany) dir. Frencesca Mannocchi, Alessio Romenzi
American Dharma (USA, UK) dir. Errol Morris
Introduzione All'oscuro (Argentina, Austria) dir. Gaston Solnicki
1938 Diversi (Italy) dir. Giorgio Treves
Ni De Lian (Your Face) (Chinese Taipei) dir. Tsai Ming-Liang
Monrovia, Indiana (USA) dir. Frederick Wiseman
Out of competition (special events)
The Other Side Of The Wind (USA) dir. Orson Welles
They'll Love Me When I'm Dead (USA) dir. Morgan Neville
Out of competition (special screenings)
L'amica Geniale (My Brilliant Friend) (Italy, Belgium) dir. Saverio Costanzo
Il Diario Di Angela - Noi Due Cineasti (Italy) dir. Yervant Gianikian
Horizons
Sulla Mia Pelle (Italy) dir. Alessio Cremonini - OPENING FILM
Kraben Rahu (Manta Ray) (Thailand, France, China) dir. Phuttiphong Aroonpheng
Soni (India) dir. Ivan Ayr
Ozen (The River) (Kazakhstan, Poland, Norway) dir. Emir Baigazin
La Noche De 12 Anos (Spain, Argentina, France) dir. Alvaro Brechner
Deslembro (Brazil, France, Qatar) dir. Flavia Castro
Anons (The Announcement) (Turkey, Bulgaria) dir. Mahmut Fazil Coskun
Un Giorno All'Improvviso (Italy) dir. Ciro D'Emilio
Charlie Says (USA) dir. Mary Harron
Amanda (France) dir. Mikhael Hers
Yom Adaatou Zouli (The Day I Lost My Shadow) (Syria, Lebanon, France, Qatar) dir. Soudade Kaadan
L'Enkas (France) dir. Sarah Marx
Tchelovek Kotorij Udivil Vseh (The Man Who Surprised Everyone) (Russia, Estonia, France) dir. Natasha Maerkulova, Aleksey Chupov
Kucumbu Tubuh Indahku (Through The Holes) (Indonesia, Australia) dir. Garin Nugroho
Hamchenan Ke Mimordan (As I Lay Dying) (Iran) dir. Mostafa Sayyari
La Profezia Dell'Armadillo (Italy) dir. Emanuele Scaringi
Erom (Stripped) (Isreal, Germany) dir. Yaron Shani
Jinpa (China) dir. Pema Tseden
Tel Aviv On Fire (Luxembourg, France, Israel, Belgium) dir. Sameh Zoabi
Sconfini (formerly Cinema in the Garden)
Blood Kin (USA) dir. Ramin Bahrani
Il Banchiere Anarchico (Italy) dir. Giulio Base
The Tree Of Life Extended Cut (USA) dir. Terrence Malick
L'Heure De La Sortie (France) dir. Sebastien Marnier
Magic Lantern (USA) dir. Amir Naderi
Camorra (Italy) dir. Francesco Patierno
Arrivederci Saigon (Italy) dir. Wilma Labate
Il Ragazzo Più Felice Del Mondo (The Young Fan) (Italy) dir. Gipi
Classics (docs)
Friedkin Uncut (Italy) dir. Francesco Zippel
Nice Girls Don't Stay For Breakfast (USA) dir. Bruce Weber
24/25 Il Fotogramma In Più (Italy) dir. Giancarlo Rolandi, Federico Pontiggia
Living The Light – Robby Müller (Netherlands, Germany) dir. Claire Pijman
Humberto Mauro (Brazil) dir. André Di Mauro
Women Make Film: A New Road Movie Through Cinema (UK) dir. Mark Cousins
The Great Buster: A Celebration (USA) dir. Peter Bogdanovich
Classics (restored)
They Live (USA) Dir. John Carpenter
Il Portiere Di Notte (The Night Porter) (Italy) Dir. Liliana Cavani
The Naked City (USA) Dir. Jules Dassin
Khesht O Ayeneh (Brick And Mirror) (Iran) Dir. Ebrahim Golestan
Akasen Chitai (Street Of Shame) (Japan) Dir. Kenji Mizoguchi
Il Posto (Italy) Dir. Ermanno Olmi
L'année Dernière À Marienbad (Last Year At Marienbad) (France, Italy) Dir. Alain Resnais
El Lugar Sin Límites (The Place Without Limits) (Mexico) Dir. Arturo Ripstein
Adieu Philippine (France, Italy) Dir. Jacques Rozier
Voskhozhdeniye (The Ascent) (Russia) Dir. Larisa Shepitko
The Killers (USA) Dir. Don Siegel
The Killers (USA) Dir. Robert Siodmak
La Notte Di San Lorenzo (The Night Of The Shooting Stars) (Italy) Dir. Paolo E Vittorio Taviani
Koi Ya Koi Nasuna Koi (Love, Thy Name Be Sorrow Aka The Mad Fox) (Japan) Dir. Tomu Uchida
Morte A Venezia (Death In Venice) (Italy, France, Usa) Dir. Luchino Visconti
Der Golem – Wie Er In Die Welt Kam (The Golem – How He Came Into The World) (Germany) Dir. Paul Wegener
Nothing Sacred (USA) Dir. William A. Wellman
Some Like It Hot (USA) Dir. Billy Wilder
The Shape Of Water director Guillermo del Toro will preside over the International Jury of the Competition this year.
The Venice Critics' Week and Venice Days line-ups have also been announced.