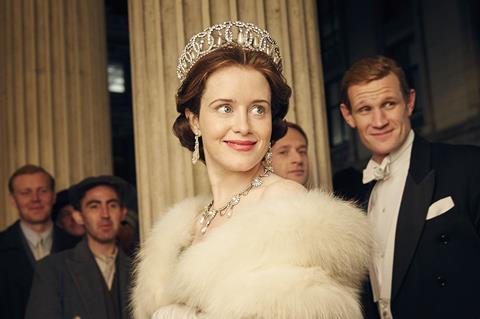 Claire Foy was paid less than Matt Smith for the first two series of The Crown, Left Bank Pictures chiefs have revealed.
When asked about talent pay equality at Keshet's INTV conference in Jerusalem on Tuesday (14 March), Andy Harries and Suzanne Mackie revealed that Smith was paid more for his role on the royal Netflix drama due to his relative fame.
"Matt had a higher profile because he had been Doctor Who," said Mackie.
"Going forward, it is really important for us to say that no one gets more than the Queen."
Foy won her first Golden Globe earlier this year for her portrayal of Queen Elizabeth II but will be replaced by Olivia Colman for the next two series, set to begin production in July.
"Those series will be the real test of whether this show has the legs to survive because no other show has replaced its cast this many times," said Harries. The "natural end" for the show is due to occur after six series, but Harries indicated it could be extended.
Mackie admitted if the show had aired on the BBC, it would have become more politically charged in its later series.
"It becomes much more challenging for the BBC as we get closer to recent times," she said. "As you get nearer to the present day, there are a lot more people who are alive and well and remember the events."
Elsewhere, Harries put an end to speculation around the cost of the headline-grabbing drama, confirming that it cost £5.5m per hour for series one and two's 20-parts.
He joked that a film producer friend had recently lunched with Prince Philip, who had denied that he had ever watched the show.
Mackie added that later series could potentially see the introduction of Prince Harry's fiance Meghan Markle, a decision which would inject some diversity into the programme.
"She can play herself," laughed Mackie.
This story originally appeared in Screen's sister publication Broadcast.