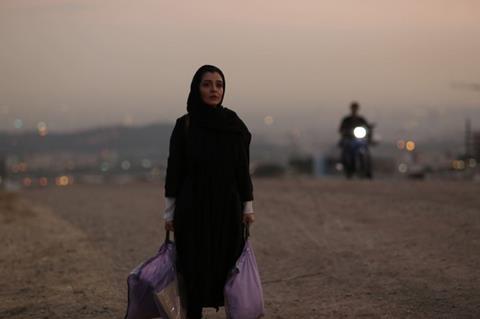 Iranian director Rouhollah Hejazi's The Dark Room was named best film at the 5th Hanoi International Film Festival (HANIFF), while Poland's Piotr Domalewski won best director for Silent Night and the jury award went to Serbian director Vladimir Todorovic's Pale Folk.
A total of 12 international feature films making at least their Asian premieres were in competition. Other award winners include Signal Rock from the Philippines, which won best actor for Christian Bables, and Vietnam's Summer In Closed Eyes, which took best actress for Dao Phuong Anh. Japanese director Kohei Oguri served as jury head.
Like the opening ceremony on Oct 27, last night's closing and awards ceremony took place at the Vietnam-Soviet Friendship Cultural Palace and the red carpet event was broadcast live on Vietnam Television.
In this 5th edition, HANIFF screened 146 films over five days, including nine films from Poland and eight from Iran (both are this year's country in focus); 45 films from the world cinema section; 22 Vietnamese films; and 29 short films in competition.
The opening film was Hirokazu Kore-eda's Cannes Palme d'Or winner Shoplifters, while the closing film was Sebastian Lelio's A Fantastic Woman, which won Oscars' best foreign-language film this year.
The Vietnamese section is a showcase of recent local films, including several box office hits such as My Mr Wife (which won the People's Choice Award), The Tailor, The Girl From Yesterday and Jailbait; and local remakes of Korean films such as My Sassy Girl, 200 Pounds Beauty and Sunny, as well as of Thai film such as She's The Boss. One of the newest local films is Leon Le's The Tap Box, which is also playing in Tokyo's Asian Future competition.
Vietnam has a relatively young population and cinema-going is a top pastime. "Apart from the Vietnamese section which has more commercial fare, we are showing artistic films in the festival. Our mission is to build and develop a film culture in Vietnam. To encourage the audiences to see more art films, the screenings are open to the public for free," said Ngo Phuong Lan, head of the organising committee of HANIFF.
Organised by the Ministry of Culture, Sports and Tourism and the People's Committee of Hanoi, HANIFF has been running once every two years since 2010 in the capital city of Hanoi, which has the longest cultural history in Vietnam.
In addition to film screenings, Ngo added that the festival also aims to nurture new filmmaking talents through the HANIFF Campus and film project market, both of which were held at the Hanoi Daewoo Hotel.
Ngo has also been since 2012 the general director of the Vietnam Cinema Department, which is in charge of the nation's film policies, censorship, funding and festivals (including HANIFF and ASEAN Film Awards).
The Cinema Department is set to be more proactive in supporting local filmmaking in the private sector through new funding initiatives. "We are going to invest in six new local projects, including three children's films, two war films and one modern-day drama. Three of the projects are fully financed by us, while another three are co-financed by the private sector," Ngo told Screendaily.
Victor Vu's Yellow Flower On The Green Grass was the first project backed by the Cinema Department, which invested jointly with the private sector. It went on to win critical acclaim and become a box office hit in 2015. Prior to this production, the Cinema Department only financed projects by the state-owned film companies.
The Cinema Department also strives to position Vietnam as a location filming hub. To introduce the beauty of local locations, HANIFF organised a tour for the international and local festival guests to explore Ninh Binh Province, a location for Hollywood blockbuster Kong: Skull Island. Ngo further revealed that a new film commission is in the pipeline to offer 'one-stop shop' assistance to international productions.
5th Hanoi International Film Festival winners:
Feature films category:
Best actor – Christian Bables for Signal Rock (the Philippines)
Best actress – Dao Phuong Anh for Summer In Closed Eyes (Vietnam)
Best director – Piotr Domalewski for Silent Night (Poland)
Jury Award – Pale Folk, dir Vladimir Todorovic (Serbia)
Best film – The Dark Room, dir Rouhollah Hejazi (Iran)
NETPAC award – Student A, dir Lee Kyung-sub (South Korea)
People's Choice Award for contemporary Vietnamese films – My Mr Wife, dir Charlie Nguyen
Short films category:
Best young director – Nguyen Le Hoang Viet for Roommate (Vietnam)
Jury award – Two Children, dir Ta Quynh Tu (Vietnam)
Best short film – Su, dir Aizhana Kassymbek (Kazakhstan)
Campus and project market:
Best student director & producer – Crisanto Calvento (the Philippines)
Excellent Award for the class – Vu Kim Anh and Cong Duong
Best project – John Denver Trending, dir Arden Rod (the Philippines)
Judges' Award – Good Morning And Good Night, dir Chung Chi Cong (Vietnam)