The Oscar-winning composer talked about his process and collaborations with Anthony Minghella and Xavier Dolan at London's Barbican.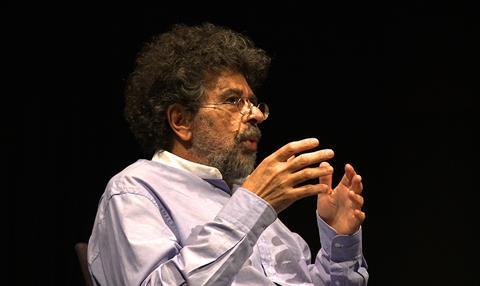 Oscar-winning composer Gabriel Yared discussed his process and collaborations with directors Anthony Minghella and Xavier Dolan during an event at London's Barbican on Wednesday (April 20).
Yared told the audience that one of the biggest challenges facing contemporary composers is the temporary music track, which is often used by filmmakers during production to serve as an atmospheric guideline.
Yared explained that the problem occurs when composers are brought on-board late in the production process and have to compete with an existing soundtrack. He said: "Nowadays, when you receive a film it is already temped with pieces of music from this or the other film.
"I think this is really dishonest. The editor and the director get used to the music and then when they hire the composer, he has to fight with all these habits and sometimes even edit to the track. You cannot get rid of the temp in their minds."
Speaking with composer Gary Yershon at the Barbican's Oscar Winning Scores Screen Talk, the French-Lebanese composer also explained why he is not inspired by film music.
"I like composers for film; I don't like film composers," he said. "I love composers like Bernard Hermann who brought into cinema a fantastic style that can be played in concert.
"I came to film music because I knew it was a place where I could evolve, progress and learn but it is much better to study music – to study Stravinsky, Bach and Schubert – and bring to the films real music that can elevate the images. There is no film music school in the world that could teach you to be a composer."
The classically-trained musician (who revealed that he didn't go to the cinema before the age of 20) also told how he composed the award-winning score for The English Patient without looking at the images. Instead, he took inspiration from the script and conversations with Anthony Minghella. "I was really lucky," he said. "It is not an easy theme to remember or to sing, it needed the right ears to hear it, to interpret it and to know it had the potential to be used in the film."
After the success of The English Patient, Yared said he tired of being offered similar projects. "I became a specialist in a certain kind of dramatic romance that ends badly. After that I was offered a series of love stories with unhappy endings - 'Can't we do a comedy?' I said."
"If you keep doing the same thing over and over, or make too many films in a year, you have no time to renew. You learn tricks and habits and you do the same thing. The best thing is to take longer on each film and do fewer scores."
Following The English Patient (which came ten years after his acclaimed music for Betty Blue), Yared would go on to garner additional Oscar nominations for Minghella's The Talented Mr. Ripley and Cold Mountain.
The composer recently worked with Canadian director Xavier Dolan on It's Only The End Of The World, which will be in competition at Cannes. The veteran praised the open-mindedness of the young filmmaker. "I'm interested in young people, who don't already have an idea of what the music should be. They don't have references and they don't say 'I would like music like this film.'"
The Oscar Winning Scores Screen Talk was the first in a new season curated by composer Gary Yershon. The series is a collaboration between Barbican Cinemas and the Academy of Motion Picture Arts and Sciences (AMPAS).