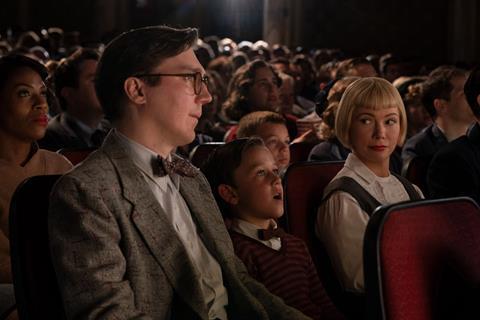 Steven Spielberg's semi-autobiographical The Fabelmans has bolstered its awards season prospects by winning the TIFF People's Choice Award on Sunday (September 18).
The award is a highly reliable bellwether of Academy voter attention. In the last ten years every TIFF audience award winner has earned a best picture Oscar nomination and three have gone on to win awards season's top prize: Nomadland in 2021, Green Book in 2019, and 12 Years A Slave in 2014.
The Fabelmans earned a rapturous reception at its world premiere on September 10 and immediately announced itself in the awards race, with observers citing best film, director, screenplay (Spielberg and Tony Kushner), and actors Michelle Williams and Paul Dano among its strong suits. Universal is the distributor.
Sarah Polley's Women Talking at Orion Pictures/UA Releasing claimed the first runner-up award for her drama about Mennonite women contemplating their next steps in the wake of systematic rape by the men in their community. The all-star cast includes Rooney Mara, Jessie Buckley, Claire Foy, Ben Whishaw and Frances McDormand.
Second runner-up was Rian Johnson's Glass Onion: A Knives Out Mystery at Netflix featuring a starry cast led by Daniel Craig, Kate Hudson, Dave Bautista, Janelle Monae, Edward Norton and Leslie Odom Jr. The film received an ovation following its world premiere immediately prior to the screening of The Fabelmans.
The TIFF 2022 People's Choice Midnight Madness Award went to Weird: The Al Yankovic Story directed by Eric Appel and starring Daniel Radcliffe, while Ti West's Pearl was runner-up and Tim Story's The Blackening, a sales title that has attracted buyer interest, was second runner-up.
The People's Choice Documentary Award was presented to Hubert Davis's Black Ice. Maya And The Wave from Stephanie Johnes and 752 Is Not A Number from Babak Payami shared runner-up recognition.
The Platform Prize went to Anthony Shim's Canadian entry Riceboy Sleeps. The jury of Patricia Rozema, Iram Haq and Chaitanya Tamhane hailed the film "for its deeply moving story and precisely-observed characters as they navigate racism, dislocation, family, and love. It balances social realism with pure poetry", adding: "Plus, it's very funny."
The IMDbPro winners were Lkhagvadulam (Dulmaa) Purev-Ochir for Snow In September for best film, Aziz Zoromba's Simo for best Canadian film, and Carol Nguyen's Nanitic for the IMDbPro Short Cuts Share her Journey Award. The Netpac Award was presented to Sweet As by Jub Clerc and the FIPRESCI Prize went to Basil Khalil's A Gaza Weekend.
In the Amplify Voices Awards presented by Canada Goose, three features by under-represented filmmakers each receive a cash prize of CAD $10,000. The Amplify Voices Award for Best Canadian Feature Film went to To Kill A Tiger by Nisha Pahuja, and the Amplify Voices Award went to Leonor Will Never Die by Martika Ramirez Escobar and While We Watched by Vinay Shukla.
The Shawn Mendes Foundation Changemaker Award presented to a film that engages with issues of social change also carried a CAD $10,000 cash prize and has gone to Luis De Filippis' trans film Something You Said Last Night.
TIFF ended with the closing night world premiere of Mary Harron's Daliland and ran from September 8-18.