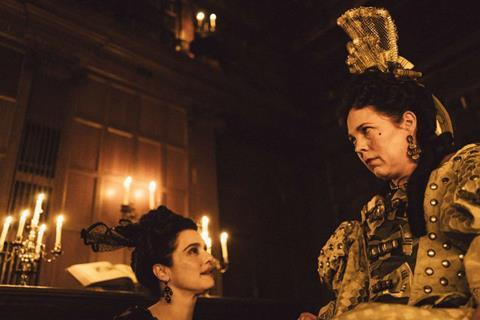 Riding high on early critical acclaim for Yorgos Lanthimos' Restoration comedy The Favourite, Element Pictures and Fox Searchlight have struck a first-look theatrical deal.
The Favourite will open in North America on November 23 and the UK on January 1, 2019, and established itself as an awards season front-runner after the premiere at Venice Film Festival. It screens at the 56th New York Film Festival on Friday (28).
Olivia Colman, Emma Stone and Rachel Weisz star in the story of intrigue in the court of Queen Anne as the Duchess of Marlborough vies for the monarch's affections with a charismatic servant.
"We have loved working with Ed and Andrew on The Favourite," said Fox Searchlight Pictures presidents of production for film and television Matthew Greenfield and David Greenbaum. "They are brilliant producers who have deep relationships with some of the most unique and important directorial voices in the world. We enter this partnership with a shared commitment to bringing ground-breaking, ambitious works to the screen."
Element Pictures heads Ed Guiney and Andrew Lowe added, "David and Matthew and the team at Searchlight are wonderful collaborators; they have great taste, are incisive, astute and very supportive. Our experience working together on The Favourite has demonstrated that we have a shared sensibility and a strong ambition to make truly distinctive and outstanding work together."
Element Pictures, based in Dublin and London, worked on The Favourite with Searchlight, Film4, Waypoint Entertainment and producers Ceci Dempsey of Scarlet Films and Lee Magiday.
Element's recent productions include Sebastian Lelio's Disobedience starring Weisz and Rachel McAdams, Lanthimos' Cannes 2017 selection The Killing Of A Sacred Deer with Colin Farrell, Nicole Kidman and Barry Koeghan, Room starring Oscar-winner Brie Larson, and Lanthimos' The Lobster with Farrell and Rachel Weisz.